Call for applications
The Community Monuments Fund was established by the Department of Housing, Local Government and Heritage in 2020 to provide investment in Ireland's archaeological heritage. This funding is prioritised for Local Authorities, private owners and custodians and community groups for the care, conservation, maintenance, protection and promotion of archaeological monuments.
The fund: · enables conservation works to be carried out on monuments which are deemed to be significant and in need of urgent support; · builds resilience in our monuments to enable them to withstand the effects of climate change; · encourages access to monuments and improve their presentation.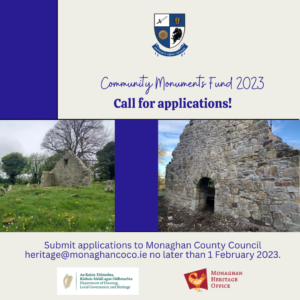 Private applicants or community groups who are the owners/custodians of archaeological monuments should: 1. Complete Application Form CMF/A.  2. Attach a comprehensive Method Statement (outline of Conservation Plan) and any other required documentation 
Submit applications to Monaghan County Council heritage@monaghancoco.ie no later than 1 February 2023.
See www.monaghancoco.ie/heritage or https://www.gov.ie/en/publication/bd7d6-community-monuments-fund-2023-call-for-projects/ for more information on this scheme.