Monaghan Social Inclusion Week 2022
Monaghan Social Inclusion Week 2022 will take place from Monday 14th November to Sunday 20th November.  The initiative was officially launched by Cathaoirleach Councillor Seán Conlon on Friday 4th November at the Íontas Arts and Community Resource Centre in Castleblayney.
The initiative is being organised by the Local Community Development Committee (LCDC) Equality Subgroup which is made up of representatives of the key service providers in Monaghan. Social Inclusion Week is an educational and insightful week which provides opportunities for service providers, community groups and educators from across the county to showcase the great work which they undertake in our communities. Local community groups were invited to take part in Social Inclusion Week with an advertising campaign inviting them to submit their events to be included in the Programme of Events.
The theme for this year's Social Inclusion Week is "Tolerance". Respecting and tolerating the beliefs of others is a key part of living in any democratic society. Ireland's population is the youngest in Europe and is becoming increasingly diverse as more people from around the world choose to live, work and study here.
The key aims of Social Inclusion Week is to highlight the positive work which Monaghan County Council and other service providers, as well as community groups, undertake which seeks to reduce social exclusion and poverty. It will raise awareness of the barriers experienced by citizens of Monaghan that lead to social inclusion. It is also an opportunity to celebrate the diversity of people in County Monaghan. Finally, it also aims to promote an understanding of inclusion in and to celebrate diversity throughout the county.
Please find a full programme of events which will take place during Monaghan Social Inclusion Week 2022 below: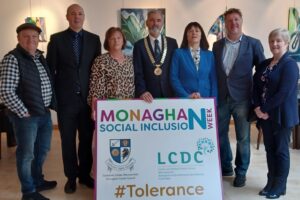 Please find a full programme of events which will place during Monaghan Social Inclusion Week 2022 below: Social Inclusion Week 2022