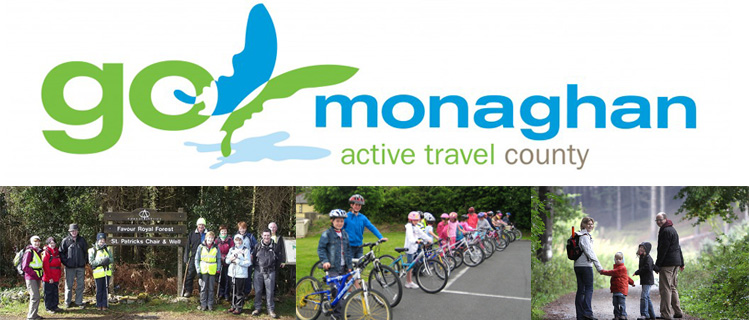 Monaghan County Council is participating in the Dept of Transport, Tourism & Sport's (DTTAS) Smarter Travel Programme.
Smarter Travel aims to achieve a 'modal shift' away from certain modes of transport to other, more sustainable modes. In Monaghan, this mainly involves getting people out of private motor vehicles and making more journeys by bike, foot or bus.  You can find out more about the national Smarter Travel strategy on their website, www.smartertravel.ie
Monaghan County Council has its own webpage for our Smarter Travel initiatives: www.gomonaghan.ie
What's Happening In Monaghan Right Now:
Monaghan County Council adopted its first County Walking & Cycling Strategy in October 2021. The Strategy covers the period 2021-2026 and contains actions which look at the development of walking and cycling from the perspective of health and wellbeing, recreation, economic development and active travel. It takes a comprehensive look at the internal and external supports which will be required in order to create the conditions for the Council to make significant progress on the provision of walking and cycling infrastructure over the period of the Strategy, and provides a roadmap for how the people of Monaghan may be supported to make walking and cycling more part of their everyday lives.
Click here to download a pdf copy of the Strategy >>
Projects undertaken so far in Co. Monaghan include:
2018:
New Public Transport Routes in Monaghan
Cavan Monaghan Transport Coordination Unit (CMTCU) CLG trading as LocalLink Cavan Monaghan manages the 'Rural Transport Programme' in counties Cavan and Monaghan. The programme delivers services in rural areas, providing transport services in areas where public transport is not readily available.
LocalLink Cavan Monaghan currently manages and coordinates over 60 rural bus services on a weekly basis across the two counties. All services are funded by the Department of Transport through the NTA and passengers may utilise their Free Travel Pass on all services.
The settlements of Ballybay and Tydavnet/Scotstown/Ballinode have no public transport service linking residents to Monaghan Town and for onward travel through Monaghan Bus Station.  LocalLink has introduced two 6 days per week / 7 services per day bus services in these areas. Routes, timetables and fares are as set out below. Both routes will share activity across the town centre, offering 14 daily service options to town centre passengers.
If you have any queries on any aspect of the service of LocalLink in Monaghan please call 1850 211 923. Click here for Local Link Route M1 M2 Timetable (PDF)
2013:
National Cycle Network
Monaghan Town Council and Monaghan County Council have worked together to secure €471,000 from the DTTAS to develop a 2-3 metre wide foot/ cycle path along the tow path of the disused Ulster Canal. Phase I involves a 4.5km section through Monaghan town, from the new Education Campus on the Armagh Road, to Rossmore Park on the Clones side of the town.
The aim is to eventually develop the path the whole way to Clones, to link up with the re-opened section of the canal between Belturbet and Clones, which is currently in development by Waterways Ireland.
The Dept hopes to create a network of off-road trails throughout Ireland, following the model of the Great Western Greenway in Co. Mayo, which brought the disused railway line between Westport and Achill back into use as a dedicated walk/ cycle path. Visit www.greenway.ie for more information on the Mayo project
2012:
Active Travel Towns
The towns of Monaghan and Castleblayney availed of DTTAS funding to devise Walking & Cycling Strategies for their towns. This is the first step in becoming an 'Active Travel Town.' Over the coming years, the two towns will work with local schools, businesses and communities to put in place programmes and supports to encourage people to use their feet or bike for short journeys around the town, and will back this up with the necessary infrastructure to ensure it is safe to do so.
We hope in 2013 that some of the other towns around the county will follow Monaghan and 'Blayney's lead.
You can view the Monaghan Town walking & cycling strategy here:
Monaghan Town Walking & Cycling Strategy (PDF)
You can view the Castleblayney walking & cycling strategy here:
Castleblayney Walking & Cycling Strategy (PDF)
2011:
Jobs Initiative Smarter Travel Scheme
– we availed of DTTAS funding to provide bike racks at every community centre and racks and/ or shelters in every town and village.
– we also removed a number of dangerous roadside obstacles that the Gardai had identified would increase the severity of any injury should a person go off the road at those spots. This was flagged through the Joint Policing Committee process, and is an example of what can be achieved through organisations working together
– we provided a bus stop and set-down area in Carrickmacross, just off the by-pass
The co-ordinating officer for the above projects in Monaghan County Council is Carol Lambe, of the Office of Community & Enterprise. She can be reached on 047 30500 or at clambe@monaghancoco.ie
Low-cost licences available to community groups and individuals in rural areas.