What is a Greenway?
A greenway is a stand alone route for non-motorised traffic, developed with the following objectives: to integrate facilities & increase environmental value and quality of life. They are often located on old railways, on towpaths, Roman roadway or old pilgrimage ways. (Declaration of Lille, September 2000)
Greenways can be found throughout the western world, including throughout Europe and the USA. Within a European context, they are seen as offering not only routes for tourism but opportunities to provide dedicated cycling and walking infrastructure to support a more sustainable lifestyle.
The Declaration of Lille (2000) calls on local authorities to 'to commit themselves to the development of greenway networks.
The Ulster Canal Greenway
The Ulster Canal has lain derelict since it was abandoned in the 1930's by the Lagan Navigation Company. It ran from Quivvy Lough north of Belturbet in Co. Cavan (where it linked via the Erne system and the Ballyconnell canal to the Shannon), through Clones and Monaghan town on to Lough Neagh at Blackwatertown, from where it was possible to journey onwards to Belfast via the Lagan Canal. While the canal has been unnavigable by boat for many decades, the route of the canal is largely undisturbed and the tow paths and banks are intact.
A public right of way exists along the tow paths, and it was this which affords us the opportunity to re-develop the canal corridor as a Greenway.
We hope eventually to re-open the entire tow path through Co. Monaghan.
Phase I of the project involved a  4.5km stretch of tow path through Monaghan town and opened in November 2014. It is attracting users of approx 100,000 a year, which is equivalent to every man, woman, child and dog living within a five mile radius of Monaghan town using the amenity at least once a month!
Phase II is due to get underway shortly. Funding has been secured under the EU INTERREG IV to extend the Monaghan section in both directions from Monaghan town, running eastwards across the border to Middletown and westwards to Smithboro. This will create approx 26km of greenway. It will be complete by end 2019.
Monaghan Co Co is working Cavan Co Co, Fermanagh & Omagh Council, Armagh City Banbridge & Craigavon Borough Council, Mid Ulster Council and Waterways Ireland to develop a masterplan for a long distance route running from Enniskillen to Portadown, via the Ulster Canal.  This route has been included as a priority route in the Dept of Regional Deveopment NI's new Greenways Strategy which was published in November 2016, and a Strategic Environmental Assessment is underway on this route.
There is a dedicated website for the Greenway, which contains a walking guide to the completed section, as well as information on the construction and up to date news on consultation on the new stages.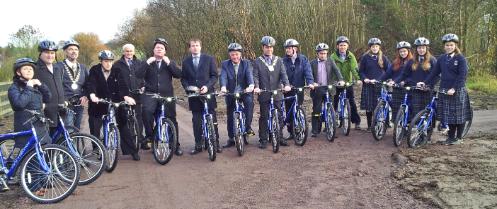 Minister for Transport Tourism & Sport, Alan Kelly, opening the Monaghan town section of the Greenway in November 2014. The DTTAS provided €540,000 to the project, with the Council finding a further €180,000 to realise the project.