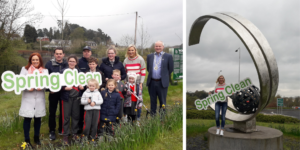 Cathaoirleach David Maxwell launches National Spring Clean 2019
Monaghan County Council appeals to everyone to play their part in tackling Ireland's litter problem as a way to help fighting climate change
Cathaoirleach David Maxwell, along with National Spring Clean Ambassador Sarah McGovern Vaughan and students from Gaelscoil Ultain, officially launched the 2019 National Spring Clean in County Monaghan.
Over the past 21 years, The National Spring Clean has focused on the collective responsibility we share in tackling and preventing our national litter problem. Participating in organised clean-ups is an opportunity for groups and individuals of all ages to make a meaningful and positive contribution in their own communities.
This year, the initiative wants to raise awareness about another crucial issue: the link between litter and climate change – the biggest environmental challenge of our time – and highlight how combined local actions can have a global effect.
With the participation in 2018 of over 500,000 volunteers and 2,600 tonnes of litter collected, of which 35% was recycled, the National Spring Clean 2019 aims to build on the progress and momentum from prior years to make 2019 the most successful anti–litter campaign yet.
Speaking at the launch, Cathaoirleach David Maxwell said:
'Despite the great work by the Spring Clean, litter pollution remains a problem.  And yet litter is one of the most easily solvable of our environmental problems.  While the link between litter and climate change might not be immediately obvious, the two are connected. When waste goes to landfill, it generates methane, a gas which is approximately 30 times more potent as a GHG than CO2. For this reason, reducing waste is more important than recycling, and adopting sustainable consumption patterns is of the utmost importance.
Today, I am calling on local residents, community groups and businesses to volunteer their time and energy in the fight against litter. In the spirit of volunteerism, The National Spring Clean 2019 aims to build a sense of collective responsibility to environmental protection through community participation. Collective responsibility at a local level can influence positive change'.
National Spring Clean, Chairperson, Michael John O'Mahony, commented:
'National Spring Clean represents the best of our community capacity to meet a challenge and have an outcome that is good for all. Participants come together to give back to their local community and the environment. For the 2019 campaign, we are focusing on the link between waste and climate change, the most pressing issues of our time. Our consumption patterns and how we dispose and treat our waste has a substantial impact on the levels of emissions of several greenhouse gases which contribute to climate change. For example: recycling one aluminum can uses 20 times less energy and therefore emissions, than making a can from virgin material. Encouraging the avoidance of single use items where possible has a substantial positive impact on litter levels along with reduced greenhouse gas emissions"
About National Spring Clean
The National Spring Clean campaign Ireland is largest and longest running anti-litter campaign. It is organized by An Taisce and sponsored by the Wrigley Company. It is supported by Local Authorities who help co-ordinate clean-up activities for communities within their counties. They also provide for the disposal of all rubbish and waste materials collected.  All those wishing to take part in the campaign should register on www.nationalspringclean.org
All clean up groups registering with the National Spring Clean campaign receive a FREE clean-up kit comprising information, posters, colour coded refuse sacks for segregation of waste materials, protective gloves and tabards to keep participants clean! Groups registered with National Spring Clean are covered under a public liability insurance policy while engaged in clean-up activities for the duration of the campaign.
An Taisce encourages everyone taking part in '#springclean19' activities to tell everyone about it. Post photos using the #SpringClean19 hashtag to your favourite social media platforms. You can tag the campaign on Twitter or Instagram using either the twitter handle @NationalSpringC, and on Instagram using the Campaign's Instagram handle @nationalspringclean.
To register for the National Spring Clean call 01 4002219 or visit the website at www.nationalspringclean.org