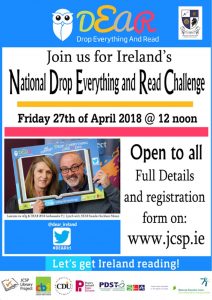 What is Drop Everything and Read (DEAR)?
The entire nation is invited to take time out and to 'Drop Everything and Read' for 20 minutes at 12 noon on Friday April 27th 2018.
The simple but very effective idea is to promote the importance of literacy and reading for pleasure by having as many people as possible read at the same time on the same day.
Work will be put down, computer screens will be turned off, and everyone will be encouraged to pick up a book, magazine, newspaper, e-book, audio book, etc. and to read quietly, or indeed be read to, for 20 minutes.
The main focus of this national DEAR challenge is to draw attention to the importance of reading for pleasure. If reading is to become a lifelong habit then young people must see themselves as participants in a community that views reading as a significant and enjoyable activity.
We here at Monaghan County Library Services are encouraging as many people to 'Drop' everything for just a few minutes and simply read. Why not drop into your local library in Monaghan and borrow that book, magazine, audiobook or go online to download an ebook to read on the day.
Want to bring your group or class to the library for a visit – just contact your local in advance to book. Contact details for libraries can be found at https://monaghan.ie/library/branch-locator/
Email photos of your group/class reading on the day to us at moncolib@monaghancoco.ie to include in publicity and report.
For more information on DEAR Day and to register your school, group go to http://www.jcsp.ie/