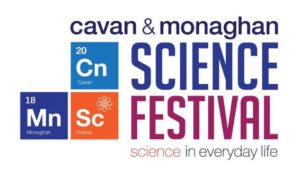 Welcome to the Cavan Monaghan Science Festival 2018 – an award winning regional festival celebrating, exploring and promoting the wonders of science, technology, engineering, arts and maths in our everyday lives.
The festival was 4th in the country in 2017 for the number of events being provided for the community and that is behind Dublin, Galway and Cork! So we say, well done us and everyone involved! The festival won the Chambers Ireland Best Local Authority Collaborative Award at the end of 2017.
So we are celebrating our 3rd birthday this year – the magic 3! And we will be celebrating for 15 days with a fantastic line up of events for everyone to get involved in. Watch out for an explosion of STEAM in the Monaghan Cavan air over the two weeks. The two counties will be showered in 200+ free, fun and educational events from the 10th – 24th November 2018.
So Why A Science Festival?
Science, Technology, Engineering, Arts and Maths are of key importance in our everyday lives. Take for instance Agri-science – this is core to the lives and livelihoods of a significant majority of both counties' populations. It is also becoming increasingly apparent that the whole range of STEAM skills are key to industrial and entrepreneurial innovation in this border area. Monaghan town for example hosts the Global Headquarters of Combilift, the acknowledged global leader in the long-load handling market which exports its products to 75 countries throughout the world. "Innovation creates jobs, jobs create prosperity, the development of new business opportunities and the sustainability of our local communities", comments Deirdriú McQuaid, Coordinator of Cavan Monaghan Science Festival.
"To nurture and exploit such opportunities, and to preserve the integrity of the rural environment, we must promote relevant skills" adds Karen McCague. One of the objectives of the Cavan Monaghan Science Festival is to create awareness among the young, and not so young, of the reality and importance of STEAM in our lives in a relaxed, informal way. "Through a series of fun, educational and entertaining events we hope to encourage children to engage in the STEAM subjects from an early age. Participation in the Festival will inform and whet young appetites for learning, enrich their lives and open up significant career and business options for them at a later stage", comments Deirdriú.
The Programme:
With future STEAM specialists in mind, the Festival programme includes lots of events for young inquisitive hands and minds. We are delighted to welcome some of the best national and international scientists, researchers, speakers, creators, artists to our festival who will take you on a new road of discovery from the science of singing, gluten free baking to the story of sepsis, autism, why babies cry or have you wondered about going into space or how to solve the worse-case zombie epidemic!
In County Monaghan alone, a dedicated school programme of around 160 workshops are on offer to schools to participate in – an extensive broad programme has been devised to support the schools curriculum, the Discover Primary Programme and to support career decision making for secondary school students. Outside of the schools, we have an afterschools programme from making your own lego movie, to learning about the importance of coral reefs and our oceans or learn about friction and force through art! All schools have received copies of schools programme brochure.
Over the three Saturdays of the Festival, we have workshops and shows for the family or young people to engage in with Science & Technology morning in Carrickmacross Civic Centre & Library on Saturday 10th 10am-2pm, Science & Music Workshops in the Iontas Arts and Resource Centre on Saturday 17th and we finish off the festival on a high with the Science Family Fun Day on Saturday 24th in Monaghan Institute, which is a spectacular event with hands on activities, demos, shows, workshops and this year we have a few surprises up our sleeves for you all!!
And the adults are catered for as well with an intriguing "Niamh Shaw is Walking (slowly) towards Space" show in the Iontas theatre on Saturday 10th, or are you the one who could save Monaghan from a Zombie invasion, if so come along to the Zombie Science Worse Case Scenario show on Tuesday 13th in the Market house Monaghan. Or maybe amongst us is the next Superhero, hailing all the way from super County Monaghan who may be revealed at our Secrets of Superhero Physiology interactive talk and workshop on Monday 19th November – is there a Hawkeye, Ant-man amongst us….
We are delighted to have local scientist Kelly Dwyer with her first exhibition 'Microbe Graphia' which will be on show in the Market House Monaghan for the duration of the festival, with a special workshop and talk on Wednesday 14th at 7pm.
For those interested in farming, nature or our rivers, we have two thoughtful and adventurous trips around our county – Explore the benefits of the Agricultural Catchments programme will be showcased in the Corduff area of the county, which will showcase the wonderful work being done between farmers and scientists to improve local water quality. Exploring Citizens Science along the Dromore River corridor event at Tanagh and Dromore river, will inform people how to get involved in recording nature of the area with a wonderful trip on the river or to the wetlands of Tanagh.
What else is on offer?
• Want to learn more about Apps for your phone?
• How about Gluten Free Baking and the science behind getting that right?
• Perhaps you need some time out with Mindfulness and meditation?
• How about a DIY Health Check?
• Thinking about architecture, maybe future game designer, engineering or simply like to draw – then try out the Solidworks 3D workshop!
• Internet Safety for Parents is a key issue these days – come along to one of the workshops on this topic.
• You, Your Dog & Arthritis….And don't forget your Canine friend – any possible issues with arthritis, want to find out more about preventive measures?
• Primary Schools Teachers – special workshop on 'Creative Approaches to primary school and STEM in education' workshop
• Science of Down Syndrome information session with clinical nurse manager
• Tour of Combi-Lift, the global leader manufacturer – see for yourself what goes on behind the scenes and range of Science based careers in the company
• Yoga & Music…explore the science of yoga and music together, their positive impact on mind and body
• And Let your Heart sing….with Shane Martin and The Greatest Showman, the science behind the therapeutic benefits of music and sing your heart out with Hugh Jackman
We have a number of competitions running…Design a Monaghan Spitfire Lego Competition, 'Plastic Pollution Awareness' Poster competition and our STEM Primary school Quiz (which takes place on Thursday 15th November)
How about read about Science?
The more you read the more things you know, the more you learn, the more places you'll go! Why not pop into your local library service, and dive into a good book which can open up a whole world of discovery and knowledge for everyone!
These are only a few of the amazing events which will be hosted as part of the 2018 Science Festival. The range of activities is breath taking – there is sure to be something for you there!
This Festival is a Monaghan County Council and Cavan County Council initiative in partnership with Cavan Monaghan Education and Training Board. The programme is generously funded by the Science Foundation of Ireland. We work in partnership with a number of local, regional and national agencies, organisations and companies, of which we are gratefully appreciative of their support.
How to Book:
Bookings are required for all events except the Family Fun Days.
To pre-book your ticket go to www.cavanmonaghansciencefestival.ie or call into your local library to book your place.
Bookings open from Monday 22nd October.
Queries in relation to any events in County Monaghan email sciencefestival@monaghancoco.ie and County Cavan email sciencefestival@cavancoco.ie
Don't miss out on these unique opportunities to mingle, have fun and experience the enjoyment of learning.
Discover! Be Inspired!
For more information see:
Cavan Monaghan Science Festival 2018 Lego Spitfire Competition 2018 (PDF Document)
Cavan Monaghan Science Festival 2018 Monaghan Plastic Pollution Awareness Poster Competition (PDF Document)
Cavan Monaghan Science Festival 2018 Primary School Table Quiz Poster 2018 (PDF Document)
Cavan Monaghan Science Festival 2018 Public Programme Monaghan Events (PDF Document)
Cavan Monaghan Science Festival 2018 Schools Programme (PDF Document)