First Fortnight in Clones EDIC (Europe Direct Information Centre)
European Mental Health Arts and Cultural Festival comes to Ireland for the first time with the aim of challenging mental health stigma and the Europe Direct Information Centre in Clones are delighted to be involved.
First Fortnight has become a fixture in the cultural calendar and synonymous with mental health awareness, challenging prejudice and ending stigma.
Clones EDIC have organised a number of events over the coming week which are all Free to take part in.  Places however are limited in some workshops so booking is essential at 047 74712 or at cloneslibrary@monaghancoco.ie

What is on in the Europe Direct Information Centre, Clones?
The Power of Words – Creative Writing Workshop. 7th and 8th January
Writing enables us to explore and clarify our thoughts and the aim of the poetry and writing workshops is to harness the positive effects of writing on our mental health. The two half day workshops (one poetry, one creative writing) will include a range of different exercises: poetry exercises, poetry reading, free writing, character development, dialogue, structure and plot. It will be interactive and participants will be working together.
7th and 8th January 2019.  Book your place at 047 74712 or cloneslibrary@monaghancoco.ie
Tips and Tools to take care of your Mental Health.  9th January 2019 – Clones EDIC/Library
Join representatives from the HSE, Mental Health Ireland and Shine as we explore tips and tools to take care of our Mental Health. This event will focus on positive mental health with a mindfulness session, information on pathways into and through the mental health services and a focus on Mental Health Ireland's – 5 ways to wellbeing.  We will also hear a service user's experience and a carer/family members experience of the mental health services and those in attendance will be provided with a range of materials with contact details for local and national services.
Bookings at 047 74712 or cloneslibrary@monaghancoco.ie
Sally Denver Matthews – Mammy Matinee.  11th January – Clones Courthouse at 10.30am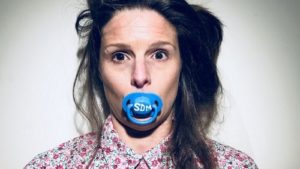 Join us for a wonderful production of Sally Denver Matthews a one woman show about the first few months of motherhood.  A Mammy Matinee means you can bring your baby with you and no one will mind if the baby cries (they're meant to)!  This show is not for your baby (they won't understand it, it's sophisticated), it's for you, the parents! Yes, dads are welcome too ('Daddy Matinees' just didn't have the same ring to it…). And if you don't have a baby, you'll still love the show!
Sally Denver Matthews
Sally + Stephen + 2 bottles of Malbec = Heidi. 
Heidi has only been around for 6 months, but she is already in charge.
Sally adores her new baby, but she misses her old life when she only had herself to worry about. Her new life as a mother is overwhelming and it feels like there's no time to talk to Stephen. At least Sally still gets to see her friends (in photos) and still gets to wash her hair (but not condition it). Mum, mam, madre, mutter, moeder… whatever you go by, it's the most difficult job you'll ever have!
Bookings at 047 74712 or cloneslibrary@monaghancoco.ie
For further information: www.firstfortnight.ie