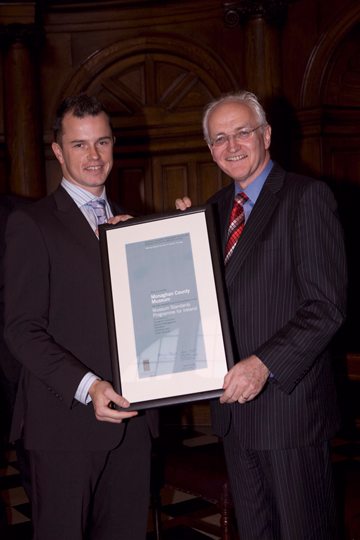 Monaghan County Museum became one of the first museums in the country to be confirmed with the prestigious award of reaching interim accreditation stage in the Heritage Council's national programme for museums entitled the 'Museum Standards Programme for Ireland'. The award was presented by the Minister for Environment, Heritage and Local Government and Leader of the Green Party, John Gormley TD at a recent gala reception launching the programme in the House of Lords, College Green, Dublin. The award was taken on behalf of Monaghan County Museum and Monaghan County Council by Museum Curator, Liam Bradley.
The reception was attended by a large collection of professionals from the museum world including the Director of the National Museum, Dr. Pat Wallace and the Chairperson of the Heritage Council, Dr. Tom O'Dwyer. As well as presenting the awards, the Minister was also there to officially launch the programme and he spoke about the dedication and hard work which museums such as Monaghan County Museum had put in to receive this award.
The Museum Standards Programme for Ireland sets out a series of 34 standards of professional excellence that any participating museum must meet before being awarded full accreditation status under the scheme. Monaghan County Museum has become one of the first museums in the country to reach the milestone of interim accreditation, which means they have achieved 25 of these exacting standards. Each museum which has applied for this accolade so far has gone through a rigorous external examination to ensure all standards have been met. Only after these examiners have been satisfied has the award been given. The fact that only 4 other museums, many of which were national institutions were awarded with this status shows the high national standing that Monaghan County Museum enjoys.
The award is a testament to the hard work and dedication of all of the Museum staff as well as the high level of support received by the Museum from Monaghan County Council. The support of the local community and all of the museum's users has also been integral to this success. It is the intention of the museum to build on this success and continue to work towards the goal of having a fully accessible and socially inclusive museum in the near future.
The museum's staff are now hard at work attempting to become the first local authority museum in the country to reach the level of full accreditation under the Museum Standards Programme for Ireland.