The Heritage Office is part in the Planning Section of Monaghan County Council. We are responsible for the development and implementation of the County Monaghan Heritage Plan, County Monaghan Biodiversity Plan and the Conservation of Protected Structures.
The position of Heritage Officer and the implementation of the Heritage Plan are jointly funded by the Heritage Council and Monaghan County Council.
Heritage Events are held on a regular basis, including a range of activities during Heritage Week, which is usually held in the last week in August. www.heritageweek.ie
The Heritage Office acts as the secretariat for the County Monaghan Heritage Forum, which advises on the implementation of the Heritage Plan.  The forum is a multi-stakeholder body and consists of elected members, statutory and non-statutory agencies, community and voluntary groups and Monaghan County Council staff.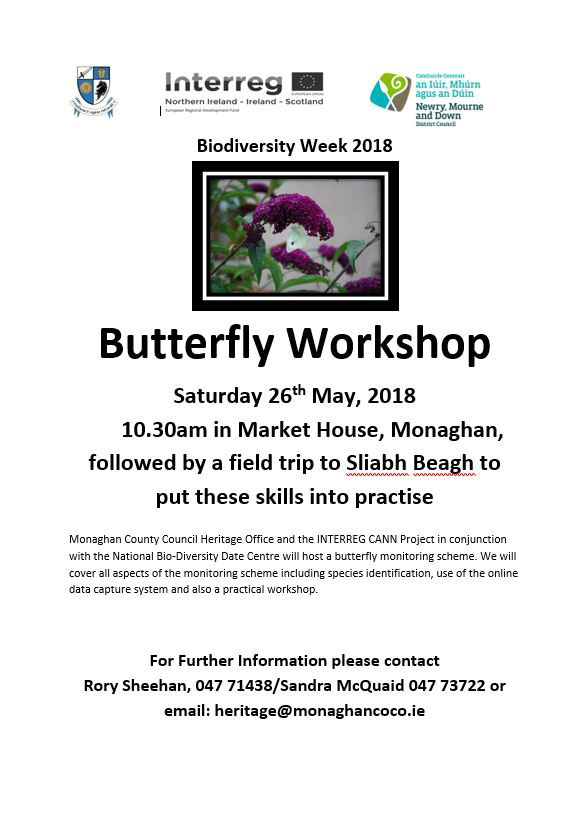 Biodiversity Week 2018
Butterfly Workshop
Saturday 26th May, 2018
10.30am in Market House, Monaghan, followed by a field trip to Sliabh Beagh to put these skills into practise
Monaghan County Council Heritage Office and the INTERREG CANN Project in conjunction with the National Bio-Diversity Date Centre will host a butterfly monitoring scheme. We will cover all aspects of the monitoring scheme including species identification, use of the online data capture system and also a practical workshop.
For Further Information please contact:
Rory Sheehan, 047 71438/Sandra McQuaid 047 73722 or email: heritage@monaghancoco.ie