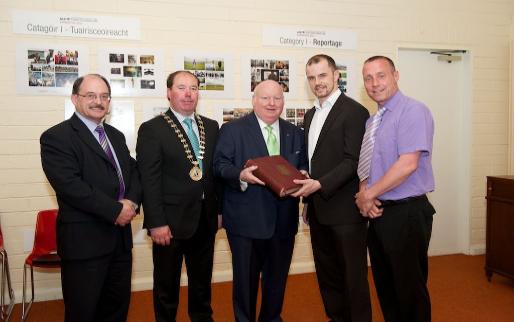 Monaghan County Museum recently received a visit from the Honourable Michael Duffy, Senator for Cavendish, Prince Edward Island during the Senator's trip to the county to retrace his roots. The Senator was given a guided tour of the County Museum by its Curator, Liam Bradley and to mark the visit he donated a 1903 encyclopedia of Ireland which had been the property of his grandfather, Judge Charles Gavin Duffy.
During the hand over ceremony the Senator spoke about the baby boom that happened in America and Canada after the Second World War. He made the point that many of these 'baby boomers' were now reaching retirement age and had the desire and the means to travel and research their family's heritage. Senator Duffy said that this burgeoning heritage tourism market represented 'the largest inter-generational transfer of wealth in history'. He made the point that Monaghan should do everything it can to make sure its name was on the heritage tourism map in the years to come.
During his address the Senator told the story of how his grandfather Judge Charles Gavin Duffy, would be contacted if a query were made about Ireland. The Judge would take out his encyclopedia and answer any question put to him. The Curator thanked the Senator for the donation stating that the book would become an important part of the Museum's educational resources.
Senator Duffy finished his remarks by stating he felt that Monaghan was on the right track in promoting it's cultural heritage 'you are on the verge of a massive increase in the number of people from Canada and all over America coming to Ireland to explore their genealogy and you have done the right thing in looking to your museum and your heritage for people to go and learn about their past'.