When dialing for an emergency service anywhere in Ireland two numbers can be used. These are 999 and 112. The new 112 number is an emergency number that can be used anywhere within the E.U. from fixed or mobile phones free of charge.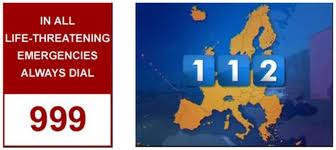 What happens when you dial 999/112?
When you dial 999, your call will be answered by a telephone exchange operator who will ask you which emergency service you require and the telephone number that you are dialing from. You must then stay on the line where you will then be connected to the East Regional Control Centre (E.R.C.C.) in Tara Street Dublin not the local fire station. Monaghan Fire Authority is part of the Eastern Region. This region includes all of Leinster and Cavan and Monaghan.
The control operator will ask you some very important questions please answer clearly.
What is on fire and/or emergency?
What is the address and directions to it?
Are there people trapped?
Your phone number
If you are unfamiliar with the area and are unable to give a precise address you will be asked for any landmarks that you can see. It may seem as though you are being asked too many questions and your call is taking too long to deal with. Don't worry, the Fire Service will already be mobilised and on its way to your location while you are still talking to the Operator. It is not necessary for you to remember any of the above questions. It is, however, important that you:
Stay calm
Listen carefully to the operator
Speak slowly and clearly
Only finish the call when the operator tells you.
How to dial 999 / 112 in an emergency
Dial 999 / 112 for the emergency services.
On answer state the emergency service you require. Ask the operator to put you through to the Fire Service.
Once you are connected to the service you require:
Clearly state the nature of the incident e.g. house fire, road traffic collision, flooding etc.
Give clear details on the location off the incident such as the street, townland address. If unsure of the address give details on the area you are in and include some landmarks such as churches, pub, monuments, name of road etc.
Brigade you require (e.g. Ballybay, Carrickmacross, Castleblayney, Clones, Monaghan)
Any other relevant information, e.g., Type of fire (chimney fire, house) if people are trapped, direction to fire, etc
Your telephone number – if additional info. is required
Meet the brigade on arrival – if possible.
Please note all emergency 999/112 calls are recorded