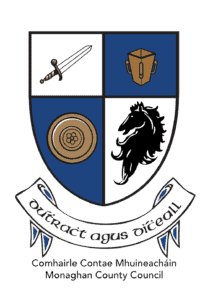 South Dublin Street and Backlands Regeneration Scheme, Monaghan Town
Online Public Consultation
Monday 19th April – Friday 14th May 2021
Monaghan County Council has appointed design consultants RPS Consulting Engineers to develop detailed urban regeneration proposals for the South Dublin Street and Backlands Regeneration Project in Monaghan Town Centre.  RPS has developed design proposals for infrastructure development and public realm improvements on lands at 8 – 14 Dublin Street, lands to the rear of 1-9 The Diamond and 1-26 Dublin Street, incorporating the Courthouse car park and Lower Courthouse car park.  These design proposals include the creation of new streets, junctions, civic spaces, cycle paths, pedestrian linkages, and high quality public realm (including street furniture, lighting, boundary treatments, landscape planting, cycle parking, high quality surfacing and signage), and all other associated works.  The aim is to create a new high-quality scheme to attract new town centre development, and form part of a new Dublin Street Quarter.
RPS are now seeking your views on the draft design proposals.  In light of the on-going Covid-19 restrictions on public assembly, the public consultation will take place online.  You can find out about the project, view the draft proposals, and provide feedback online, at the website below from 19th April to 14th May 2021:
https://monaghan.ie/south-dublin-street-and-backlands-regeneration-scheme/
A consultation event will also be held in Monaghan County Council Offices on Wednesday 5th May 2021 between 10am and 6pm in which members of the RPS design team will be available to talk through the proposals and answer any queries.   Attendance at this event will be strictly by appointment only. To book an appointment, please contact RPS by telephone: 0044 2896 949723 or email: PACC@rpsgroup.com. Alternatively, you can book an appointment to speak to the design team via telephone: 0044 2896 949723.
You may also wish to provide comments or make representations to RPS by email: PACC@rpsgroup.com or alternatively you can also submit representations or comments on the proposed scheme in hard copy to Monaghan County Council, Planning Offices, 1 Dublin Street, Monaghan, H18 X982.
If you are unable to access the materials online, please contact RPS by telephone: 0044 2896 949723
All comments or feedback should be received no later than 21st May 2021.
————————————————————————————————————————————————————————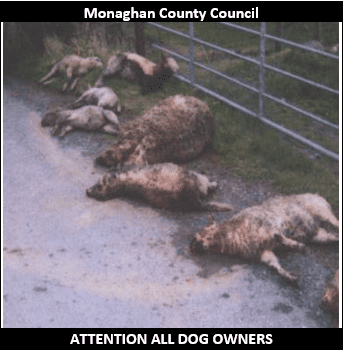 Lambing time has now begun.
In the last month two sheep attacks were reported to the Dog Warden, one near Clones and one near Lough Egish.
These attacks cause great cruelty to sheep and lambs. These attacks result in serious losses for the farmer.
Any dog, large or small, may become involved in attacking sheep – MAKE SURE YOUR DOG DOESN'T GET THE CHANCE!
If you own a dog or dogs, you are required to:
Keep your dog under control at all times. This means not allowing your dog off your property unaccompanied.
Have a microchip certificate of registration which proves that your dog is microchipped and registered to you. (Required since 2016)
Ensure that every dog under your control wears a collar bearing the name and address of the owner at all times and that the name and address are legible.
Have a current licence for each dog in your possession or a general dog licence to cover all dogs in your possession. YOU CAN NOW BUY YOUR DOG LICENCE ONLINE AT monaghan.ie
PLEASE KEEP YOUR DOG LICENCED, TAGGED, MICROCHIPPED AND UNDER CONTROL
Brendan Smyth
County Veterinary Officer
15th April 2021
————————————————————————————————————————————————————————