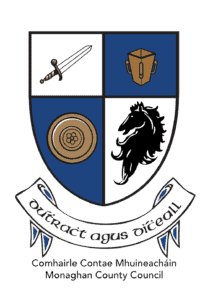 Monaghan PPN Supporting Communities To Stay Connected
Over 50 Community and Voluntary groups from across the county were recently represented as Monaghan Public Participation Network (PPN) hosted its first online networking meeting of 2021. A great mix of groups were in attendance representing social inclusion, environmental and community and voluntary sectors.
Monaghan PPN Resource Manager, Leona Keenan began the meeting by giving an overview of activities to date in 2021, including a consultation workshop on Monaghan County Council Litter Management Plan and a focused workshop on Climate Change. This was followed with examples of some key pieces of work for they year ahead including the establishment of a Migrant Integration Forum, feedback into plans such as the Climate Action Plan 2021 and Monaghan Local Economic and Community Plan, a tailored training progamme and many other capacity building supports for the 580 community groups currently registered with the PPN.
Ms. Keenan also welcomed the launch of "Our Rural Future" and informed everyone Minister Heather Humphreys recognised the important role the PPN has to play as a key stakeholder in the delivery of initiatives from this strategy over the next five years.
Senior Executive Officer Fintan McPhillips Monaghan County Council provided groups with a comprehensive overview of the Clár Funding 2021 currently open and told them "This funding has helped re-energise our rural communities and improves the quality of life for people across the county. The types of funding available include Support for Schools/Community safety measures, Community Recreation areas which includes playgrounds/multi use games areas, barbecues, public toilets and bins and picnic benches/seating, so people can stay connected outdoors and safely and there is a new funding category for 2021 under Community Gardens and Allotments. Only completed online applications will be accepted and closing date is Monday 26th April at 5pm. Visit www.monaghan.ie for further information and please carefully read the guidelines".
He informed everyone that two other measures are available under Mobility and Cancer Care Transport and Clár Innovation measure. Applications for these measures can be made directly to Department of Rural and Community Development. Finishing his presentation Fintan said "other funding will be available later in the year such as the Community Grant 2021 and Community Enhancement Grant. That is why being a part of the PPN is so beneficial for groups by being kept up to date with information on all funding opportunities whether it is local or national funding. All of the team in Community Development section are happy to provide support to groups with any queries applying for these funds".
Monaghan County Council Community Development Worker Carol Lambe delivered a presentation on the Council's proposed County Walking & Cycling Strategy.  The document will influence how the Council supports the development of walking and cycling over the next five years. This will include infrastructure provision for both active travel (commuting) and recreation, and activities to promote the growth of walking and cycling in the county. You can view the Strategy,  and have your say by completing a short survey online, by going to https://gomonaghan.ie/walking-cycling-strategy
The meeting concluded with Leona Keenan PPN Resource Manager, thanking everyone for their continued support to the PPN and that the challenges imposed on everyone by COVID-19, has not stopped the PPN from continuing to deliver on all of its key work plan priorities. She said " we have embraced this new way of meeting online and this could only be done with the support of the group of volunteers on the Secretariat who manage the work of the PPN, and with the dedication of all of the PPN representatives who are represented on Monaghan County Council decision making committees.  And finally, to all of our member groups who continue to come and show their support at meetings such as this. I look forward to us all meeting in public in the near future".
To find out more information about Monaghan PPN visit our website www.ppnmonaghan.ie, telephone Leona Keenan at 047 73750 Or follow Monaghan PPN on facebook/twitter.