Monaghan County Museum

Monaghan County Museum has been serving the people of Monaghan for over 40 years. During which, it has diversified to match the needs of a changing community. This award winning museum has a professional commitment to excellence in caring for and displaying its collection, as well as making that collection as accessible as possible both intellectually and physically. The museum has a number of outreach exhibitions throughout the county, the museum displays have been recently updated with new accessible exhibits and the museum website and Facebook page both have up to date information on collections and events.
Our History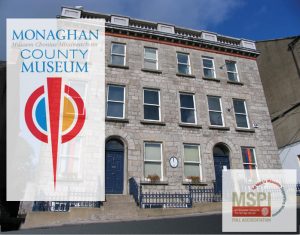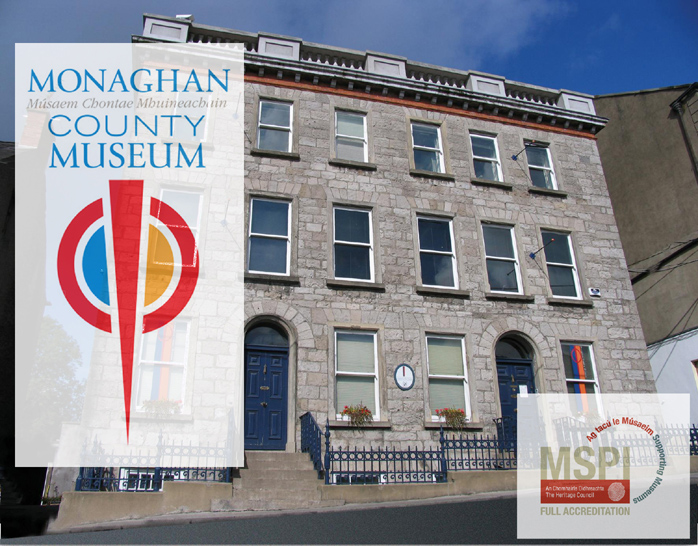 Monaghan County Museum opened its doors to the public in 1974 becoming the first full time staffed, local authority funded museum in the Republic of Ireland. The Museum has been widely acclaimed for its commitment in displaying Monaghan's rich culture and heritage.  The Museum was originally housed in the Courthouse in the centre of town; however following a fire which gutted the building in 1981 the collection was rescued and temporarily moved to the Christian Brothers Secondary School. It was stored there temporarily and a limited display was continued until the move to Hill Street in August 1986.
The Gallery held temporary displays until the fully refurbished museum was opened in June 1990 by Dr. Patrick Hillery then President of Ireland. The building was originally two large town houses; however it underwent extensive reconstruction and now offers a unique experience to our visitors as they explore the history of the county in our permanent exhibition galleries.
Monaghan County Museum is part of a network of 12 local authority museums around the country that are all part of the Local Authority Museums Network (LAMN).