Monaghan County Museum staff have created numerous successful exhibitions on the history and prehistory of the county over recent years and many of these have gone on to tour around Monaghan and indeed further afield.
In keeping with the museum's mission statement of bringing the story of Monaghan to as wide an audience as possible, some of the most popular exhibitions have been reformatted and are now available to download.
Simply click on one of the links below and take an online tour through some of the fascinating stories this unique county has to tell.
The download may take a few moments depending on your connection speed.
Six Women – Six Stories
To mark the first St Brigid's Day Bank Holiday in the history of the state, we are sharing the stories of six Monaghan women and how they worked to change the world around them. Click on the image to read more.
Linen in Monaghan County Museum
This online exhibition of artefacts in our collection portrays the importance of the linen trade in County Monaghan. The linen making process was a labour-intensive process that particularly suited the small size of farms in County Monaghan.
The weaver-farmer system was very common until the 1830s, when spinning mills were becoming established and the spinning of linen thread at home slowly declined.
The images illustrate the story and varied uses of linen, to view this images please see here.
Monaghan Book of Plans Restoration Project 2018
This book was donated to Monaghan County Museum in 1975. It consists of maps, sketch maps, house plans, etc.
These date from 1798 – 1860.  The book of maps is currently being conserved by Monaghan County Museum. This project has been funded by the heritage council.

Monaghan Book of Plans Restoration Project 2018 PDF
Life & Death in Monaghan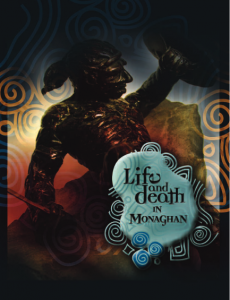 Life & Death in Monaghan (Adobe PDF, 4,225kb)
This exhibition, which was co-sponsored by the National Roads Authority, chronicles the story of some of the earliest settlers in Monaghan from approx. 4500BC onwards. It is based on the results from excavations prior to the construction of the N2 Carrickmacross bypass.
Magic Miles in Monaghan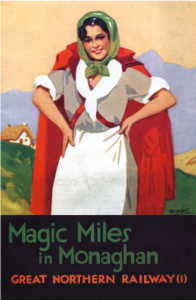 Magic Miles in Monaghan (Adobe PDF, 5,708kb)
This wonderfully colourful and nostalgic display tells the story of the Great Northern Railway (GNR) and the dramatic affect it had on the lives of the people of Monaghan over the hundred years of it's existence from the mid 1800s to the mid 1900s.
Seen but not heard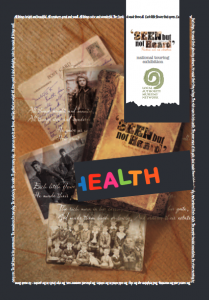 Seen but not heard (Adobe PDF, 11,122kb)
Told through the experiences of children young and old, this exhibition tells the story of the changing role of children in Irish society over the last century. This exhibition was a joint initiative between the 13 local authority museums in the Republic of Ireland that make up the Local Authority Museums Network (LAMN).
1920 Local Elections Commemorative Booklet
1920 Local Elections Commemorative Booklet English (Adobe PDF, 6004kb)
1920 Local Elections Commemorative Booklet Irish (Adobe PDF, 6011kb)