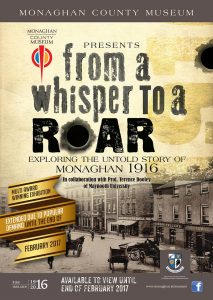 Monaghan County Museum's multi award winning exhibition 'From a Whisper to a Roar – Exploring the untold story of Monaghan 1916' has broken all attendance records and has been extended until the end of February due to popular demand.
From a Whisper to a Roar – Exploring the untold story of Monaghan 1916
Monaghan 1916, when the whisper of an Irish Republic exploded into a roar following the bombshell of the Rebellion. A never before told story about the lives of Monaghan people caught up in the Rising as well as the Monaghan people who fought in the British Army during the Battle of Somme. This ground breaking exhibition looks at life in the county during this turbulent time and how these violent and chaotic events affected everyone in Monaghan and changed their lives forever. Monaghan County Museum has been working in collaboration with renowned historian and Monaghan man, Professor Terence Dooley of Maynooth University to research and develop this gripping story of passion, sacrifice and patriotism.
The region of Ireland that would eventually became known as County Monaghan has been defined by life on the frontier since the Bronze Age and the construction of the Black Pig's Dyke, an ancient barrier cutting off Ulster from the rest of the country.
The Home Rule Bill that was passed in 1914 but postponed until the end of the war proposed a separate state in the North of Ireland and Monaghan was once again about to experience life on the border. This possible future aroused great fury in a county that was at the epicentre of the political divide in Ireland
In this exhibition we investigate how the people of Monaghan who were from both Nationalist and Unionist backgrounds dealt with the initial shock of the 1916 Rising and we see how the tremors of the rebellion eventually started shaking the county to the core, forever changing the future of Monaghan the country.
For many in Monaghan though, both Nationalist and Unionist, the summer of 1916 brought their focus to the battle fields of France. Thousands of men from Monaghan signed up and went to fight in the British Army during World War I. Many of them formed part of the 36th (Ulster) Division who went over the top on the first day of the Somme offensive on July 1st and never came back. For the men who were lucky enough to survive, the Monaghan they came home to was a very different place.
The exhibition will run from March 10th until the end of February 2017 and will be supported with a vast array of workshops, talks, tours and events throughout the year.
For full details on Monaghan County Museum's full programme of events visit our Events page, like us on Facebook, call on (047)82928 or come in to visit us at 1-2 Hill Street Monaghan Town.