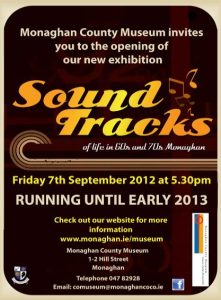 Music and life in County Monaghan during the 1960s & 1970s
This exhibition looks at the music that people in County Monaghan were listening to in the sixties and seventies and gives an idea of what might have been happening when these tunes were first out.
Did you experience these decades? Maybe you have only heard about them through family and media? That song you love might have been playing long before you were born, or were you there when it was first released…
This story is told using photographs, film and sound. There is something to appeal to all ages. The lifestyle, news and music show a glimpse of what life was like in County Monaghan during these years of great change.
Throughout the exhibition there will be music themed events, workshops, tours and presentations. Come and join us for a look or listen, you never know what you will discover or remember…
The exhibition will be launched on Friday 7th September in conjunction with the Monaghan Blues Festival 2012
Educational workshops for schools – Soundtracks Exhibition
To complement the Soundtracks Exhibition Monaghan County Museum will be hosting the following workshops.
Join us to watch some old classical children musical that some of us might remember watching. Mary Poppins, Chitty Chitty Bang Bang, Annie, and The Wizard of Oz, just to name a few.
Pupils will be given an in-depth tour of the exhibition with an interactive activity to complete it.
Make Your Own Instruments
Pupils will get the opportunity to make their own music with their very own hand made instruments.
Images from the exhibition