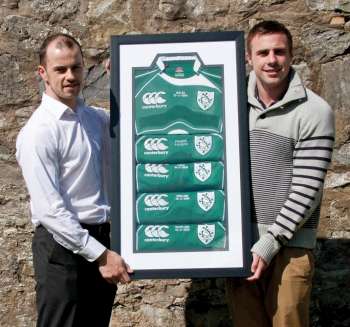 Tommy Bowe presents Liam Bradley (Museum Curator) with Jerseys from Grand Slam Victory
Ireland Rugby International and Monaghan man, Tommy Bowe recently donated the five jerseys that he wore during Ireland's historic Six Nations Grand Slam campaign of 2009 to Monaghan County Museum. The incredible collection includes the jersey he wore while running over for the winning try against Wales in the Millennium Stadium to clinch the Grand Slam for Ireland.
On a sunny late Spring afternoon, Tommy Bowe strolled into Monaghan County Museum with a piece of sporting history under in his arm and made one of the most significant donations in the museum's nearly forty year history. The five jerseys represent not only a hugely significant part of Irish sporting history but more importantly they are a potent symbol of Monaghan's sporting heritage.
Tommy Bowe officially handed over the framed jerseys to Monaghan County Museum Curator, Liam Bradley. The Curator noted that 'this is a hugely significant donation for the museum. I want to thank Tommy Bowe, his mother Ann and the rest of the Bowe family for agreeing to hand over this unique part of their family history to the people of Monaghan.'
Tommy Bowe is the latest in a long line of Monaghan people who have achieved greatness on the national and international sporting stage. The history of sport in Ireland goes hand in hand with many of the other significant times in our history and it is fitting that these jerseys will find a permanent home in Monaghan County Museum. They can now be enjoyed by all its visitors as well as acting as motivation to all of the young people of Monaghan that with hard work and diligence, they too can achieve their goals in life.
Tommy debuted for Ireland in 2004 against the USA and signaled his arrival on the international team with a try. His first appearance in the Six Nations tournament for his country came in 2006 against Italy when he once again ran over the try line. He made a move at club level at the end of the 2007 – 2008 from Ulster to the Ospreys and in his first season with the Welsh club, he scored a club-record four European Cup tries in a single match against Treviso. Since 2008 he has been ever present on the Ireland wing.
It was of course for the integral part that he played in Ireland's 2009 Six Nations Grand Slam win that he will always be remembered in Monaghan County Museum with the donation of the jerseys he wore during that tournament. It was for that incredible form that he earned his place on the 2009 British and Irish Lions team, which toured South Africa. In the 2011 World Cup in New Zealand he once again represented his country, scoring two tries against the USA. He is the third highest try scorer for Ireland behind Brian O'Driscoll and Denis Hickey.
The jersey collection is now on display in Monaghan County Museum, which is open to the public Monday to Friday 11am to 5pm and Saturday 12pm to 5pm.