November 15th, 2021: The Department of Public Health HSE North East have seen a significant rise in the number of COVID-19 cases in the North East in recent weeks. More than 55,000 COVID-19 cases have been reported in the North East since the first cases were reported in March 2020.
The Department of Public Health North East are appealing to the public in the context of widespread transmission to do everything possible to stop this surge. It can only be achieved through collective action.
We are therefore asking you to:
stay at home if unwell and
at least halve your social activities for the next 4 weeks.
The infographic (see below) outlines the COVID-19 cases over time in the North East. The graph highlights how the number of cases reported so far in wave 4 has already surpassed the total number of cases reported during wave 3.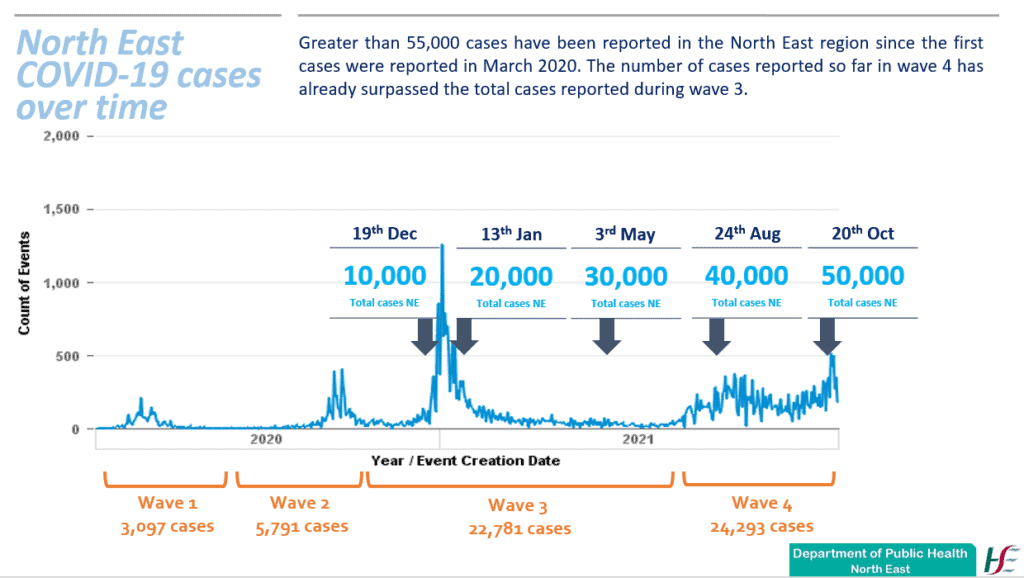 Dr Augustine Pereira, Director of Public Health North East, said: "The North East region has reached another milestone of COVID-19 cases, as the number of cases crossed 50,000. Over half of this was recorded during the fourth wave. With nearly 2500 cases every week and 3000 cases in week 45, it represents some of the highest number of cases per week we have experienced during the pandemic. I am appealing to you all to stay at home if you are unwell. People around you will Thank you for doing so. At this time, when there is widespread community transmission, I ask you all to halve your social contacts as much as possible. We all need to play our part and follow public health guidelines to reduce community transmission in the region."
"The pandemic is not over yet, and we are urging the public to be extra vigilant and act responsibly, in order to minimise the spread of COVID-19 in the community. Activities contributing to the increase in cases recently include indoor gatherings, household visits, family gatherings, social activities and onward transmission from social events into workplaces and schools. When COVID-19 is circulating in the community, the best way of reducing the number of cases is to reduce the level of socialising and ensuring that if you have symptoms, you take every effort not to spread the infection."
"The COVID-19 vaccines are a powerful defence against contracting COVID-19 or passing it on to others. It's not too late to avail of the free COVID-19 vaccine. We encourage those who have already had one dose to get their second vaccine and if you are eligible avail of the booster vaccine. There are several ways of getting your vaccination; through a vaccination centre by booking your vaccine online, at a vaccination centre that is offering a walk-in vaccination service or through a participating pharmacy."
Dr Pereira added: "For now, we must continue to wear a face covering, frequently wash hands, keep a physical distance of two metres, avoid crowded places, and adhere to proper cough and sneeze etiquette. These actions are in our control and are effective. We ask that you continue these efforts and keep your guard up."
"Testing and self-isolation is still critically important – if you have any COVID-19 symptoms, stay at home and get a free PCR test as soon as possible. Even if you have been vaccinated, you must adhere to the guidelines as you could still pass the virus on to others."
Dr Elaine Brabazon, Senior Surveillance Scientist at the Department of Public Health HSE North East, added: "The number of COVID-19 cases in Wave 4 in the North East have now surpassed the total cases during Wave 3. In some areas in the North East rates of COVID-19 are as high as 1 case in every 50 people. This represents significant force of the infection in our communities. This is a time we all need to pull together again. We would ask everyone in the North East and particularly Louth and Meath to stay safe and follow public health measures to reduce transmission as much as possible".