Shop Local - Monaghan Town
Buy Monaghan Town Vouchers and use them Any Time throughout the year.
We have over 200 participating shops and businesses.
Vouchers are available to buy in the following locations in Monaghan:
Flemings Department Store

G&G Stores, Emyvale

McConnons, Old Cross Square

McMahon Centra, Scotstown
Monaghan Shopping Centre
Rocks of Monaghan 
For Business Orders please contact the Monaghan Town Team for invoice and payment using banking online.  ordermtv@monaghancoco.ie
Your Town Needs You! Please Support it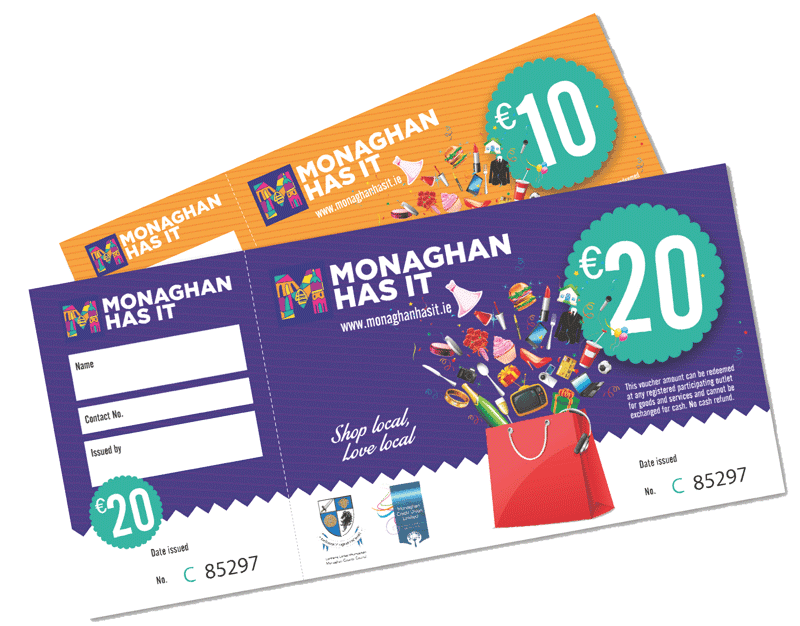 Monaghan Businesses who accept Town Vouchers
Please note this list was correct at time of publication.
Accommodation & Hotels
Castle Leslie Estate
Four Seasons Hotel
Hillgrove Hotel
Westenra Arms Hotel
Bars
Andy's Bar
An Poc Fada
Conors Bar, Glaslough
Saddle Bar at Wild Thyme Restaurant
Terrys
The Squealing Pig
Westenra DV Lounge  Hughies Pub 
Books & Stationery
Bookstation
Easons
Hallmark
McArdles
Rocks Stationery
Cafés/Bistro
Barley & Bean
Coffee Break with Barbara
Cottontail Café
Dinkins Bakery
G Café
Insomnia
Missy A's
Robertos Café
The Hive                                Screaming Bean Café            
Health, Leisure & Wellbeing
Coral Leisure
Costello Yoga & Fitness
Four Seasons Leisure Club
Holland & Barrett
Mullaghmore Equestrian Centre
The Fitness Habit
The Spin Doctor
Rossmore Golf Club
Home and Garden
Albany Home Decor 
Chadwicks 
Drumbriston The Sofa Maker
Fabric Centre 
Finishing Touches 
Greenfingers Garden Centre 
Hollands of Emyvale 
Mantra Living, North Road    Maurice Grahams
Mc Grahams  
Monaghan Plant Hire 
Monaghan Hire  
Noel Duffy Ltd 
Starlighting 
SPS Plumbing Ltd 
Upstairs Downstairs 
Valucarpets
Cars, Deliveries, Services & Wash
Albert Berry Motors
Car L Parts
Comline Ireland Ltd
Flack Brothers Ltd.
Francis McQuaid Tyres
Kieran McMahon Tyres Ltd.
Kellys Pitstop
Laverty's School of Motoring
McConnons Bus & Courier Services
McKenna Auto, Castleshane
Murphy School of Motoring
Rally School Ireland
Wired 4 Sound      
Electronics, Electrical & Gaming
3 Store, Church Square
Eir
Expert Electrical
Hugmie
King Communication
McArdle Computer & Office
Monaghan Electrical
Monaghan Fix
Fuels
Braeside Stores
John Bogues, Dublin Rd
J. McGuirk Fuels
McKenna Top Fuel, Emyvale
McNallys, Cootehill Rd
McQuaids XL Shop, Emyvale
Oriel Services  
Samsbridge, Maxol
Tommy Martin Fuels            
Flowers
Angel Blossoms
Hughes Flowers
JP Flowers
Restaurants & Take Aways
Andy's Bar & Restaurant
Blasta Street Food Kitchen 
Dhaba Takeaway
Eastern Balti
McDonalds
Monte Carlo
Neighbourhood
Porkies Restaurant
Subway
Taste of Tuscany
The Batch Loaf
The Gate Lodge
The Hive
Tommies Takeaway
Wild Thyme Restaurant
Fashion
Boyles Menswear
Brix Workwear
Dea Clothing
Diesel Clothing
Dirty Famulous
Enzo Shoes
Gillanders Town & Country
Hand Footwear
House of Labels
Inka
Jack & Jones
Lifestyle Sports
Macho Man
Madison Boutique
Manhattan Boutique
McDermotts Sports Shop
Monaghan Boot Co.
Name It
Project W
Utopia Clothing
Wilsons Menswear   
Vera Moda
Zoya                                                 DV8                                        Manhattan Boutique                        Paco   
Project A                                   
Gifts, Jewellery & Travel
Absolute Jewellery
Annette Lappin Fine Jewellery
Emerly
Flemings Giftware
Garage Theatre
House of Gold
Jonos
Kiwi Country Clothing
Magills Jewellery
Monaghan Music & Piano Centre
O'Hanrahan Travel
Rally School Ireland
Rubies & Pearls
Savoir Faire @ M Grahams
Sound Quality Gifts
Starlighting
Suzanne Toal Photography
Toymaster                                  Annette Lappin Fine Jewellery 
Pharmacy and Medical Services
Blacks Allcare Pharmacy 
Connolly Healthcare 
Dolans Chemist
Hackett Opticians 
Health 1st Pharmacy 
McQuaid Opticians 
McSorley Pharmacy, Emyvale
Ronaghans Opticians
Ronaghans Pharmacy            Scotstown Pharmacy 
Specsavers 
Wards Chemist
Professional Services           
All Creatures Veterinary Group
Blue Dolphin Environmental Ltd
Coyle Compete Graphics and Signs
Diamond Imaging               
Dr Colm Smith Dental  Centre
David Johnston Accountants
FJ Coyle & Associates         
Jim McQuaid & Associates   
Maurice Moffett Ltd             
McElvaney's Waste and Recycling
Mc Guigan Architects          Monaghan Music and Piano Centre
Sherry Fitzgerald Conor McManus
Suzanne Toal Photography              The Station House 
Food, Drink & Grocery
Braeside Stores
Charley Meats
Corcaghan Co-Op
Dealz
Eurogiant
G&G Stores Centra, Emyvale
John Bogues, Londis
Kix
Mallons Foodhall
McMahons Centra, Scotstown
McMahons Spar, Emyvale
McConnons, Old Cross Square
McCleary, Londis
McQuaids XL Shop
Petstop, Old Cross Square, Monaghan
Samsbridge Mace
Silverhill Farm Shop
Spar, Killygoan
Supervalu Flemings
The Local
Tesco
Treanor Meats
Wineways
XL Ballinode
XL Tydavnet
Hairdressing/Beauty
Apple Hairdressing
Capello Hair Design
Chic Hair & Beauty
Daly & Co Barber Shop
DG Hair Design
Freckles Beauty Salon
Hair @ Carol's
Head Office
Ina's Barber Shop
Inspire by Caroline Martin
J'Adore Hair Beauty 
Lads & Dads Barber Shop
Mo's Hairdressing
Peter Aidan Hair Studio
The Hair Lounge
You're Beautiful Hair & Beauty
5th Avenue by Belinda Hamill                 
Please Shop Local and Support Local Jobs.
#ShopLocal, #MyMonaghanChristmas, #Lookforlocal, #Monaghan