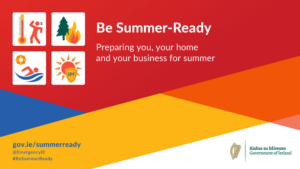 This is the fourth year of the 'be Summer Ready' campaign which compliments the long standing "Be Winter Ready" information campaign.
The aim of the campaign is to provide information to the general public on issues which may affect them during the summer months in Ireland, encouraging people to be informed and aware of the risks which may occur, in order to be prepared, to stay safe, and know where to find help if needed in an emergency.
The focus of the 2023 campaign messaging is "Think water safety – Plan and Prepare". It aims to highlight and make the public aware of the importance of considering your safety, making a plan, and being prepared before you go on or near the water or undertake water based activities.
A campaign leaflet contains important water safety focused advice and information, as well as additional sources of advice to assist the public in planning and preparing before taking to the water.
We would urge people to take some time to familiarise themselves with the important safety information and advice in this campaign, on topics such as water safety, road safety, health preparedness, and farm safety.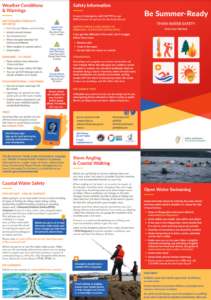 More information about the campaign is available on the Be Summer Ready website.
Click on the following link to download a PDF copy of the booklet https://www.gov.ie/en/publication/389f2-be-summer-ready/
Public Consultation on the introduction of the European Union (District Heating) Regulations 2022
Learn more here:  https://bit.ly/3MTN2zg