COMHAIRLE CHONTAE MHUINEACHAIN
MONAGHAN COUNTY COUNCIL
NEWSPAPER NOTICE
PART 8
Planning and Development Act 2000 (as amended)
Planning and Development Regulations 2001 (as amended)
Notice is hereby given pursuant to Article 81(1) of the Planning and Development Regulations 2001 (as amended) for development at Tullyvaragh Lower, Castleblayney Co. Monaghan.
The proposed development will consist of:
Site clearance involving the removal of circa 80m of existing hedgerow and trees to the south of the L8100
Creation of a vertical and horizontal realignment of the L8100 with an approximate width of 6m and length of 89m back from the stop-line with the N2 to comply with TII standards.
Excavation and disposal of circa 500m3 of unsuitable material. Importation of circa 400m3 of suitable material to form embankments and 400m3 of suitable material to form capping layer to road base.
Realignment of 100m of existing water mains for Donaghmoyne GWS
Provision of circa 100m of Vehicle Restraint Barrier in total to the north side of the L8100 and west side of the N2
Provision of circa 150m of drainage pipes and filter drains and relocation of existing surface water gullies. Drainage network to incorporate the necessary inspection manholes. Provision of new headwall at existing outfall location.
Provision of circa 650m2 of new HRA surface along the L8100
Ancillary works including drainage, line marking, signage and landscaping
In accordance with Article 81(2)(ca) and 120(1B)(b)(i) of the above-mentioned regulations, Monaghan County Council, as the competent authority, has concluded from a Screening Determination, which is based on an examination of the nature, size and location of the proposed development that there is no real likelihood of significant effects on the environment arising from the proposed development and as such has determined that an EIA is not required. This Screening Determination is available for inspection, and at any time before the expiration of 4 weeks from the date of publication of this notice, any person may apply to An Bord Pleanála for a screening determination as to whether the proposed development would be likely to have significant effects on the environment.
Plans and particulars of the proposed development may be inspected or purchased, at a fee not exceeding the reasonable cost of making a copy, from 20th January to 17th February 2022 inclusive at the offices of Monaghan County Council, Planning Section, No1 Dublin Street, Monaghan during public opening hours. Due to Covid-19 restrictions, please contact the above-mentioned offices to make an appointment to view the documents of this application. All associated documents can also be viewed online at http://www.eplanning.ie/MonaghanCC/searchtypes
Submissions or observations with respect to the proposed development, dealing with proper planning and sustainable development of the area in which the development will be situated may be made in writing to Monaghan County Council, Planning Section, No1 Dublin Street, Monaghan before 5pm on 03rd March 2022.
Patricia Monahan
Director of Services
Transportation Community & Rural Development
Monaghan County Council
Dated this 20th January 2022
________________________________________________________________
Community Activities Fund 2022
Funding of €265,142 has been awarded for County Monaghan for the Community Activities Fund under the Community Enhancement Programme.  The fund will be administered by Monaghan Local Community Development Committee (LCDC).  The Community Activities Fund (CAF) is funded by the Department of Rural and Community Development.  the scheme was launched at national level by the Minister for Rural and Community Development, Heather Humphreys TD, and the Minister of State with responsibility for Community Development and Charities, Joe O'Brien TD.
The Community Activities Fund will support groups, particularly in disadvantaged areas, with their non-pay running/operating costs, as well as funding to carry out necessary repairs and improvements to their facilities and purchase equipment. The scheme does not provide funding for the pay or employment of staff.
Any not-for-profit community or voluntary group can apply to this Fund
Commercial organisations, individuals and for-profit organisations are not eligible for assistance
Notes:
Requests for assistance usually exceed the funds available. The Programme is likely to be oversubscribed.  Therefore, all applications fulfilling the conditions may not be successful or may be granted a lesser amount than applied for.
Applications will be evaluated by the LCDC to ensure eligibility and consistency with the Local Economic and Community Plan 2016-2021 (LECP) which can be viewed at the following link https://monaghan.ie/communitydevelopment/local-economic-and-community-plan-lecp/
Applications must be made online
Guidelines are available at monaghan.ie/communitydevelopment/category/grantsfunding-schemes/
This is also the location of the online portal, where the application must be submitted
This is an online application process only and hard copy application forms will not be accepted.
Closing date for receipt of completed online applications is 5.00 p.m. Monday 31st January 2022  
At this time, the online portal will close and it will not be possible to submit further applications
For any queries please email: communitygrants@monaghancoco.ie
__________________________________________________________________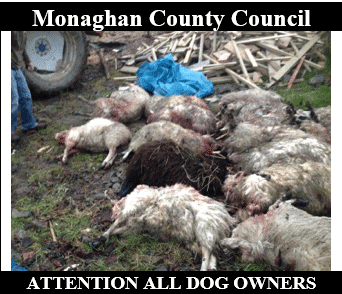 Lambing time will soon begin again.
Every year in Monaghan, there are many attacks on sheep by dogs, particularly around lambing time.
These attacks cause great cruelty and result in sheep and lambs dying from their injuries, lambs being aborted, and stock not thriving for fear of further attacks.
These attacks result in serious losses for the farmer, including veterinary fees, disposal of dead animals, the value of the dead sheep and lambs, and loss of thrive.
Any dog, large or small, may become involved in attacking sheep – MAKE SURE YOUR DOG DOESN'T GET THE CHANCE!
If you own a dog or dogs, you are required to:
Keep your dog under control at all times. This means not allowing your dog off your property unaccompanied.
Have a microchip certificate of registration which proves that your dog is microchipped and registered to you. (Required since 2016)
Ensure that every dog under your control wears a collar bearing the name and address of the owner at all times and that the name and address are legible.
Have a current licence for each dog in your possession or a general dog licence to cover all dogs in your possession. YOU CAN NOW BUY YOUR DOG LICENCE ONLINE AT monaghan.ie
PLEASE KEEP YOUR DOG LICENCED, TAGGED, MICROCHIPPED AND UNDER CONTROL
Brendan Smyth
County Veterinary Officer
20th January 2022
______________________________________________________________________
COMHAIRLE CONTAE MHUINEACHÁIN
Oifigí an Chontae, An Gleann, Muineachán
MONAGHAN COUNTY COUNCIL
County Offices, The Glen, Monaghan
NOTICE OF DEPOSIT OF RATE BOOK FOR INSPECTION AND OF INTENTION TO MAKE RATE.
_____________________________________________________________________
Notice is hereby given that Monaghan County Council is about to make an Annual Rate on the rateable properties in County Monaghan.
The Annual Rate on Valuation (ARV) for the ordinary expenditure of the County Council for the service year ending 31st December 2022 is €0.226.
The Rate Book is available for inspection by appointment by any ratepayer in the Rates Offices, Monaghan County Council, County Offices, The Glen, Monaghan, and will be open for inspection between the hours of 10.00 am and 4.00 pm during the fourteen days following the date below, exclusive of Saturdays, Sundays and Bank Holidays.
John Murray
Head of Finance
County Council Offices
The Glen
Monaghan
DATED THIS:  20th day of January 2022