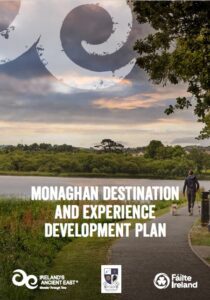 On 2nd June, the newly developed Monaghan Destination and Experience Development Plan (MDEDP) was launched by Ministers Catherine Martin and Heather Humphreys at an event in Castle Leslie Estate, Glaslough.
The MDEDP is a five year commercial destination and experience development plan. The role of the MDEDP is to support the development of unique and compelling destination experiences focused on a number of immediate and strategic destination opportunities. The MDEDP was developed through a consultative process involving tourism industry representatives, members of the local community and Monaghan County Council.
The MDEDP will guide tourism development through a roadmap of projects linked to a number of destination development opportunities. Over the course of the plan implementation, success will be measured by achieving growth across a range of indicators from new experience supply, visitor demand patterns, growing the value per visitor and a number of additional destination competitiveness indicators.
Please click here to view the document: Monaghan Destination and Experience Development Plan (PDF)