Rossmore Forest Park was delighted to receive an Honourable Mention at the recent ULI-CBRE Excellence in Placemaking Awards 2021 event held online last Tuesday 23rd November.
A guiding principle of the Urban Land Institute is that the achievement of excellence in land use practice & design should be recognised and rewarded. Since 1979, ULI has honoured outstanding development projects in both the private and public sectors.
The awards reward organisations and communities throughout Ireland that make genuine efforts to improve their local communities through the initiation of projects that add to the public realm and make better places in which to live, work and play.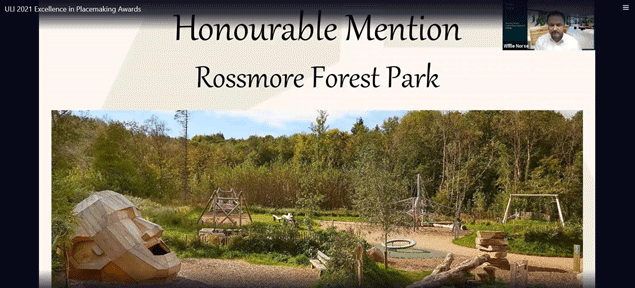 Rossmore Forest Park narrowly missed out in the Ulster Public/Private Sector Project category to Belfast City Council's 'Belfast Entries' project but was commended for its quality and overall approach to collaborative and sustainable placemaking. This is a testament to all the hard work put in by volunteers and community groups who work on an on-going basis in conjunction with Monaghan County Council to develop Rossmore as a best-practice recreation amenity.