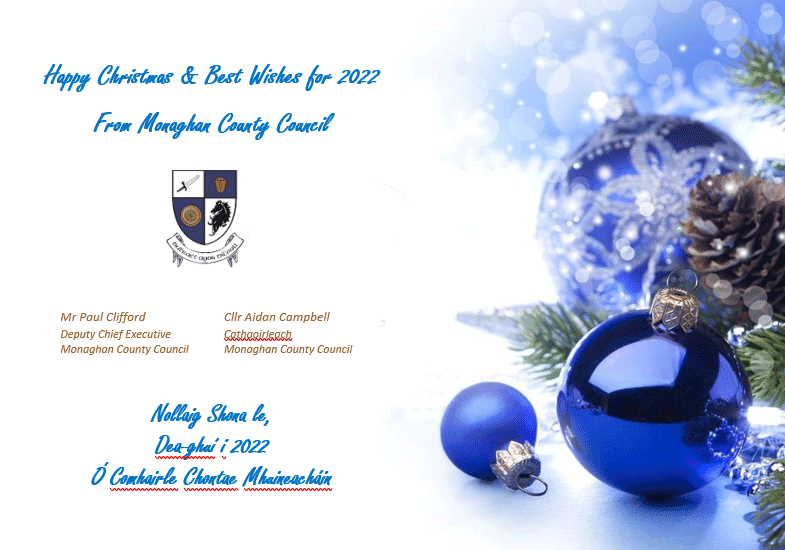 _______________________________________________________
Monaghan County Council
Emergency Cover arrangements for the Christmas period
The Offices of Monaghan County Council including the offices of the Municipal District of Carrickmacross-Castleblayney, Municipal District of Ballybay-Clones, Municipal District of Monaghan will be closed on Thursday, 23 December 2021 at 4.00 pm and will re-open on Tuesday, 04 January 2022 at 9:15 am.
The Motor Taxation Office at Market Street, Monaghan will close to the public on Thursday, 23 December 2021 at 1.00 pm and will re-open to the public on Tuesday, 04 January 2022.
In emergency cases only, the following number may be contacted:
1800 121 121
_______________________________________________________
Community Activities Fund 2022
Funding of €265,142 has been awarded for County Monaghan for the Community Activities Fund under the Community Enhancement Programme.  The fund will be administered by Monaghan Local Community Development Committee (LCDC).  The Community Activities Fund (CAF) is funded by the Department of Rural and Community Development.  the scheme was launched at national level by the Minister for Rural and Community Development, Heather Humphreys TD, and the Minister of State with responsibility for Community Development and Charities, Joe O'Brien TD.
The Community Activities Fund will support groups, particularly in disadvantaged areas, with their non-pay running/operating costs, as well as funding to carry out necessary repairs and improvements to their facilities and purchase equipment. The scheme does not provide funding for the pay or employment of staff.
Any not-for-profit community or voluntary group can apply to this Fund
Commercial organisations, individuals and for-profit organisations are not eligible for assistance
Notes:
Requests for assistance usually exceed the funds available. The Programme is likely to be oversubscribed.  Therefore, all applications fulfilling the conditions may not be successful or may be granted a lesser amount than applied for.
Applications will be evaluated by the LCDC to ensure eligibility and consistency with the Local Economic and Community Plan 2016-2021 (LECP) which can be viewed at the following link https://monaghan.ie/communitydevelopment/local-economic-and-community-plan-lecp/
Applications must be made online
Guidelines are available at monaghan.ie/communitydevelopment/category/grantsfunding-schemes/
This is also the location of the online portal, where the application must be submitted
This is an online application process only and hard copy application forms will not be accepted.
Closing date for receipt of completed online applications is 5.00 p.m. Monday 31st January 2022  
At this time, the online portal will close and it will not be possible to submit further applications
For any queries please email: communitygrants@monaghancoco.ie