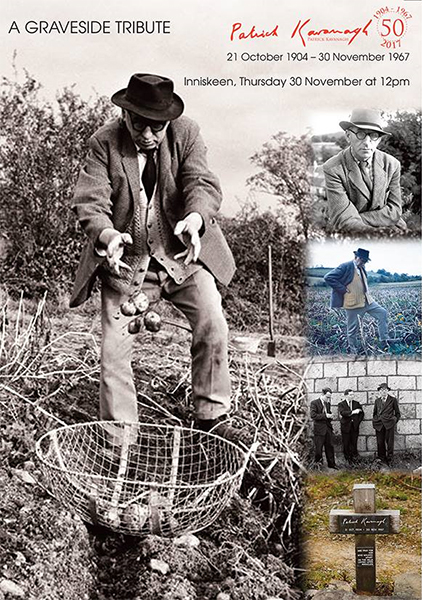 The Patrick Kavanagh Centre & Monaghan County Council presented a graveside tribute to poet and writer Patrick Kavanagh featuring a number of well known poets and writers from across county Monaghan and beyond.
Patrick Kavanagh was born in County Monaghan in 1904. He died on 30th November 1967, and is buried at the former St. Mary's Church, Inniskeen, now home to the Patrick Kavanagh Resource Centre.
To mark the 50th anniversary of his death, at noon on Thursday November 30th, a cast of Ireland's finest living writers and poets gathered at his graveside to deliver a spine-tingling recital ten of Kavanagh's best-loved works.
You can view this very special tribute via the link below:
For detailed coverage of the event nationally, please click on the articles below:
www.beat102103.com/news/patrick-kavanagh-remembered-50th-anniversary-death/
www.laois-nationalist.ie/2017/11/30/patrick-kavanagh-remembered-on-50th-anniversary-of-his-death/
www.breakingnews.ie/ireland/patrick-kavanagh-remembered-on-50th-anniversary-of-his-death-816551.html
www.irishexaminer.com/ireland/50th-anniversary-of-patrick-kavanaghs-death-and-you-smile-up-at-us-eternally-463756.html
www.thetimes.co.uk/article/the-poems-of-patrick-kavanagh-should-return-to-schools-nxw7n88b3
www.irishnews.com/news/2017/12/01/news/ceremony-to-mark-50th-anniversary-of-death-of-poet-patrick-kavanagh-1200768/
www.independent.ie/life/travel/travel-news/can-kavanaghs-50th-turn-stony-grey-soil-into-monaghan-tourism-magic-36363668.html
www.irishtimes.com/news/ireland/irish-news/images-of-the-day-1.3311399
www.rte.ie/news/ireland/2017/1130/923883-ceremony-to-mark-50th-anniversary-of-kavanaghs-death/
www.balls.ie/gaa/patrick-kavanaghs-ice-cream-378683
www.eveningecho.ie/oneaday/Patrick-Kavanagh-remembered-on-50th-anniversary-of-his-death-e857b3a5-e0b3-476a-9861-b6ba11db5e8a-ds