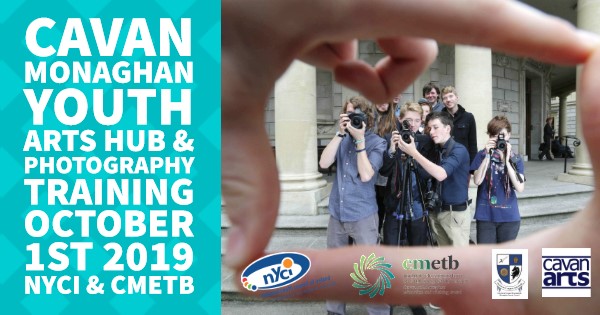 NYCI Youth Arts Programme in partnership with Cavan Monaghan Education and Training Board Youth Office invites you to join your colleagues at our:
Youth Arts Networking Day & Training Workshop (Using Photography in Youth Work and Capturing Magic- Evaluating Outcomes in Youth Arts projects )
Date: Tuesday, 1st October 2019
Venue:  Hilton Park, Clones, Monaghan
Time: 10 – 4pm (including networking lunch)
Fee: Free
Book or enquire with: Joanne Brennan, Arts Officer, Cavan Monaghan ETB joannebrennan@cmetb.ie 0860878820
Calling all youth workers, volunteers and youth arts practitioners in Monaghan and Cavan!
Following on from a very successful workshop in drama skills, our next network training will focus on using photography in youth work settings, with an additional inductory session on evaluating youth arts projects.
Training: Using Photography in Youth Work
Photography activities and techniques can be used in their own right, but are also very useful and beneficial techniques in general youth work – this workshop provides ways to build a sense of community and belonging by exploring ways that you can use photography to support young people to share experiences with each other, build relationships and potentially create something new together. This training will be led by Aislinn Delaney, who has worked as an artist with a number of community groups on photographic projects.
Networking and lunch
Over lunch, we can informally explore participants' needs in terms of  running youth arts projects within their projects/clubs and any issues/concerns that arise for them.  It is also a chance to catch up and build connections with your peers and colleagues. NYCI will also provide a brief overview of the supports offered by it's Intercultural and Equality Programme.
Training: Capturing Magic- A Tool for Evaluating Outcomes in Youth Arts Projects
This training was developed by the NYCI Youth Arts Programme as a  way to track and measure the magic in your project. This condensed session provides an introduction and practical tips on how to use the resource to identify the best outcomes for your particular project and plan your evaluation.
Booking:
Please note that numbers are limited, so book early to avoid disappointment.  Further information and booking with Joanne Brennan, Arts Officer at the details above.
We look forward to seeing you there.