Keep Well
The Government Plan for Living with COVID-19: Resilience and Recovery 2020-2021 highlighted the important role that individual and community resilience will play in contributing to our ongoing response to COVID-19.
The Keep Well campaign is aimed at showing people of all ages how we can mind our own physical and mental health and wellbeing by adding healthy and helpful habits to our daily and weekly routines. It will provide guidelines,
information, and tips on how we can make a plan to do things that will help us keep well through the coming months.
A full range of supports is available online at gov.ie/healthyireland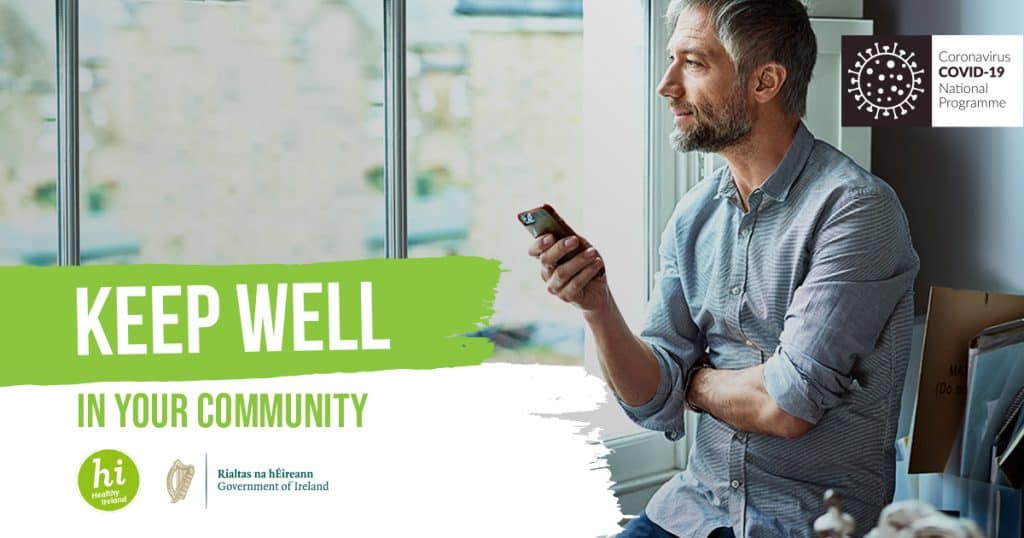 Keep Well builds on the "In This Together" campaign which happened earlier in the year. The "Keep Well" campaign is focussed on five main themes:
Keeping active
Keeping active – keeping active and being outdoors, even during the winter, is important to help physical and mental health and wellbeing.
Switching off
Switching off – switching off and being creative or learning something new, getting back to nature and finding ways to relax can help our general wellbeing.
Minding your mood
Mind your mood – equipping people with information on where to go if they need support. This will also be linked with the local community helpline to ensure that people can access the support they need.
Keeping in Contact
Keeping in Contact– staying connected with people, addressing isolation, supporting volunteerism and initiatives that support person-to-person connection is important to our wellbeing.
Eating well
Eating well – by nourishing our bodies and minds, we can develop a better connection between the food we eat and how we feel and positively impact our physical and mental wellbeing.