Online at www.motortax.ie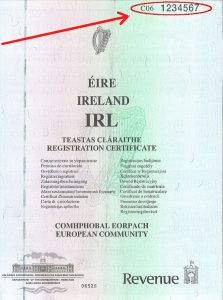 With few exceptions, see b) below, vehicles may be taxed online at www.motortax.ie using the last six digits of the Vehicle Registration Certificate Number as the Personal Identification Number (PIN) . The Vehicle Registration Certificate Number begins with the letter 'C' & appears at the top right hand corner of the front of the Vehicle Registration Certificate. SEE following:
Or, retrieve pin no per online retrieval facility. (see image below)
PIN No. for Vehicles never previously taxed in the republic of Ireland:
* Use the last 6 digits of the chassis number. (VIN No.) for taxations for New or newly imported vehicles if taxing online.
Please retain the Vehicle Registration Certificate carefully for reference to the PIN for tax purposes as well as for use when you sell the vehicle.
If you own a commercial vehicle that has previously been taxed in your name at your local motor tax office, the tax
can also be paid online. The vehicle must have a current certificate of road worthiness i.e. valid at the beginning of the
selected tax period. If you are a new owner of a commercial vehicle, please see Note b) below.
Motor Tax Office
a) You may also tax the vehicle at your local motor tax office, by attending personally or by postal application. To do this, you will need to complete form RF100A or RF111 for newly purchased goods vehicles.
b) If you are taxing a commercial vehicle in your name for the first time the application must be made at the local motor tax office. In the case of light commercial vehicles (vehicles whose design gross vehicle weight is under 3,500 kg), you must complete form RF111A (declaration that the vehicle will only be used as a goods carrying vehicle in the course of the owners business) as part of the application, and provide any other supporting evidence required by that office. See Goods Vehicles section for full listing of requirements.
c) Forms Form RF100A and RF111A are available at the motor tax office or can be downloaded at www.motortax.ie
Forgot PIN number or don't have a VRC at hand?
Monaghan Motor Tax Office does not issue or release PIN numbers.
PIN number Retrieval facility online
Where you don't have your VRC at hand, there is a facility on the Motor Tax online website to "retrieve a pin number" per following snapshot below.
Click on the PIN Retrieval button as illustrated: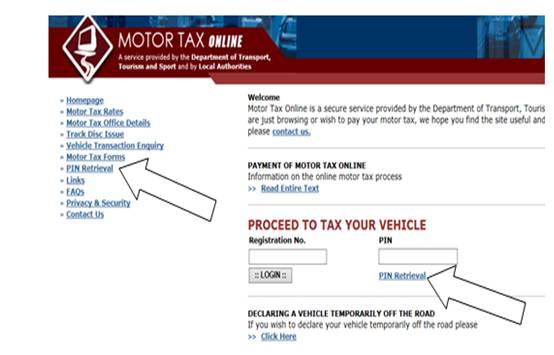 A PIN will be sent to your email address.
If you are still having difficulties, please ring 0818 411412  or email motortax@dttas.gov.ie