N2 Blackwater Bridge Replacement: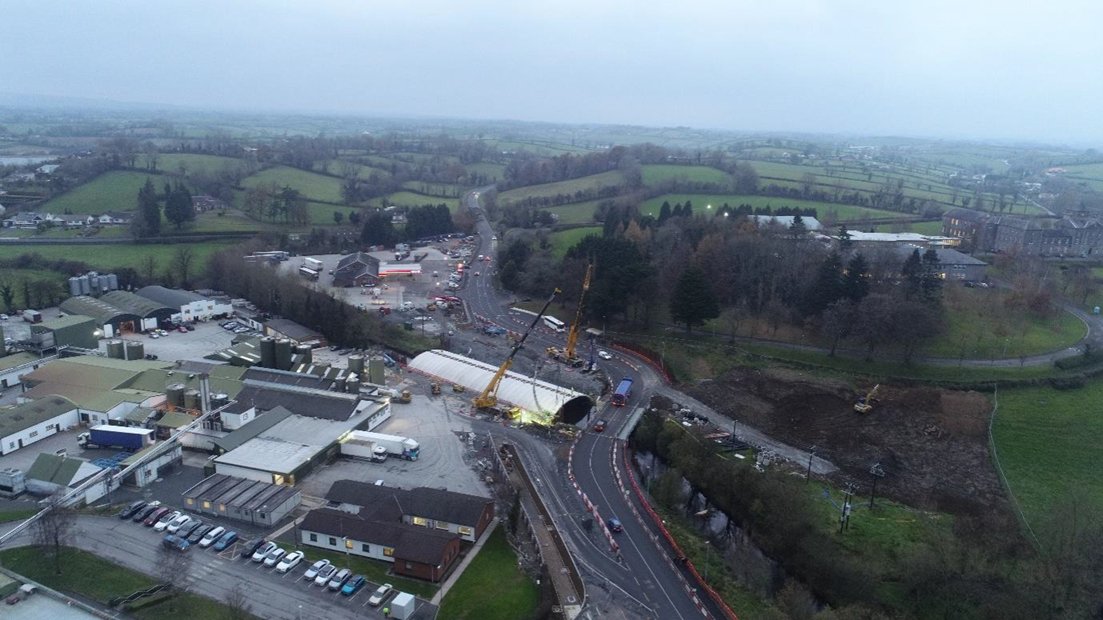 The Blackwater Bridge Replacement Contract comprises the demolition of the existing Blackwater Bridge which carries the N2 National Road over the Blackwater River at Coolshannagh, north of Monaghan Town. The N2 is the main Dublin to Derry route through County Monaghan and this section of the route is used by over 12,000  vehicles every day.
The scheme is funded by Transport Infrastructure Ireland (TII) and detailed civil and structural engineering design services are being provided by Doran Consulting Ltd. Following a tender competition in 2018 Monaghan County Council awarded the contract for construction of the Blackwater Bridge to Fox Building and Engineering Ltd.
To maintain traffic movements on the N2 a temporary diversion route including a temporary bridge crossing the River Blackwater was constructed in April 2019. While works are ongoing two-way traffic movements are being maintained on the N2 as well as accesses to St Macartan's Secondary School, Lakeland Dairies and Circle K service station.
The works are now at an advanced stage of construction. The old masonry bridge is now demolished, and the precast single arch panels are now installed.  Other works will include raising the existing carriageway level by up to a metre, re-alignment of approximately 330m of the road on either side of the new bridge, new road drainage, street lighting, road markings, signage and accommodation works,
The new Blackwater Bridge will bring significant benefits as it will replace the substandard masonry structure whilst also addressing the history of flooding at this location. This section of the N2 route has been impassable on a number of occasions in recent years.
The project represents a major investment in the county's road infrastructure with a scheme Budget of €6 million to cover costs of construction, design, accommodation works, service diversions, archaeology and project management.
Date: 20th April 2020.