Small and micro businesses in Monaghan are the first in the country to avail of the ESGo digital tool which provides for independent validation of green credentials.
Described as "a game changer" by the Local Enterprise Office in Monaghan, securing validation will allow them access benefits that up to now have been out of reach.
"There are many businesses in Monaghan who have not had access to a mechanism that both recognises and validates the steps they have already taken to be more sustainable," explained Eilín Connolly, Acting Head of Enterprise, Local Enterprise Office, Monaghan.
ESGo [pronounced Easy Go] is an easy to use digital tool that will assist businesses in tracking and managing their responsible Environmental, Social & Governance (ESG) journey.
"I am particularly delighted that this is available free of charge after the Local Enterprise Office in Monaghan secured the pilot for the county," she added.
ESGo had its genesis in Monaghan Local Enterprise Office's Go Green programme which supports local businesses as they transition to low carbon entities.
"Until now there has not been an intuitive, ease to use system that micro and small businesses can use to get an accreditation."
"There are ISO environmental standards suitable for large firms but they are too complicated for the micro firm. This simplified platform will give them the confidence to undertake responsible actions in pursuit of ESG goals and will give them an all-important accreditation for their efforts," she explained.
"This has several benefits for our local entrepreneurs and employers. They not only contribute to environmental sustainability, but it can also have positive effects on the business's bottom line and reputation. I think it could be a gamechanger."
The work began with a feasibility study last year and that research identified a gap in the market in assessing social impacts and governance structures.
The outcome is the easy-to-use ESGo platform for smaller businesses who will be audited and a credential then issued by 'Climeaction' – experts in this area.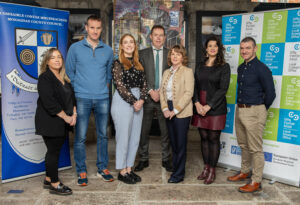 Monaghan Local Enterprise Office worked with Cork based 'Climeaction' as it specialises in providing climate action solutions for business including decarbonisation to develop the platform.
The company will also audit the businesses, provide a roadmap for increased compliance and then issue the appropriate validation.
Robert Burns, Chief Executive Officer, Monaghan County Council, said,
"We are delighted to have secured the pilot programme for the county; it will enable businesses to build on work already undertaken to improve their carbon footprint.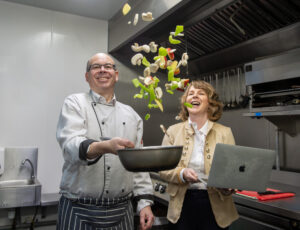 Climeaction said, "ESGo is a simplified approach to increase engagement with SME companies in ESG and provide them with value by way of an advisory report from a trusted impartial source."
Among those leading the way in hospitality is Sean Redmond, head chef with Andy's Bar & Restaurant where energy costs dropped by a remarkable 11% by measuring and monitoring energy usage – a saving of €2,724.  With ESGo he can seek secure independent validation of his commitment to going green and staying green.
More information for businesses is available by contacting info@leo.monaghancoco.ie