The Sensory Stories Programme at Monaghan County Libraries was developed in order to make our libraries more accessible and to improve our services to the autism community and to those with additional needs.  We have introduced a range of new services with online literacy software programmes, sensory storytimes, classes and workshops.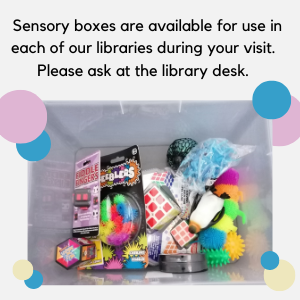 The Sensory Stories programme also includes a series of free lectures and workshops. These events offer further guidance, support and networking opportunities for parents, teachers and healthcare professionals
This programme was made possible with funding through the Dormant Accounts Fund and with support from the Government of Ireland.
You can view the full guide to our Sensory services here 

A collection of toys, software and assistive technology can be accessed free of charge by library members throughout the county. The collection was developed by staff of Monaghan Libraries in partnership with therapists working in the community and local parent groups.
These items focus on developing skills for life and help support the development of fine and gross motor skills, hand-eye coordination, visual perception and problem solving.
Items in the catalogue can be borrowed and brought home by library members to work on particular skills. Items can be requested and collected by the borrower at their nearest branch library. We always welcome suggestions to add to our collection – contact us at libraryactivities@monaghancoco.ie
View the full catalogue of assistive toys & technology here

We understand that visiting a new place can be a daunting experience so we've put together a collection of social story booklets which introduce each of our branch libraries.  Choose the library you want to visit and the social story booklet will take you through the library step by step so you are familiar with each element before you arrive.  Don't forget, we are a JAM Card friendly organisation.  You can show your JAM card if you need some extra help or  'Just A Minute' at the desk.
View Castleblayney Branch Library
View Carrickmacross Branch Library

We love stories! It's through stories that we can imagine new places, take part in adventures but also find a character who is sometimes a bit like us!
Monaghan Libraries have worked with author Valerie Sheehan, a professionally trained ASD tutor and author of the wonderful Tony the Turtle Series of Books, as part of the Sensory Stories programme.
Valerie's books are designed for children who see the world differently and their parents and teachers. The books empower parents and teachers to manage everyday activities that the child might find challenging or over-whelming.
Toby Goes To The Playground
Toby Goes To School