Monaghan County Council has just completed its implementation of the Wifi4EU network across County Monaghan. This project delivers internal and external wifi in 36 public buildings, recreational spaces and community centres throughout the county. The project will allow members of the public to access public wifi throughout these locations. It is hoped that the installation of high speed broadband in these facilities will also allow community groups to facilitate online meetings and to run computer courses within their community centres.
The project -which had a capital cost of €120,000- was financed jointly by Dept. Rural & Community Development and by Wifi4EU. In all 36 sites throughout the county have been connected with high speed broadband. This has facilitated the installation of 56 wifi access points in total. These sites were chosen following an application process from community groups and other interested parties. Monaghan County Council will finance the running & maintenance costs for the network for the next three years as part of the Wifi4EU programme.
The complete Wifi network was installed by Network & Infrastructure Support Ltd. Based in County Offaly, N.I.S. has been in business for over 20 years and specialises in the delivery of IT and networking  services to schools, businesses and the public sector. N.I.S. have been Cisco Meraki partners and Microsoft gold partners for some years and have established an excellent reputation for the completion of networking and wifi projects throughout the Midlands and the North East.
The Wifi network features state of the art Cisco Meraki Wifi 6 equipment which allows faster browsing and streaming services. Meraki networks also feature a number of advanced security features including web content filtering to protect users from unwelcome content. This can all be managed through a single dashboard. The delivery of broadband services to these sites was completed by multiple Telecoms operators including Vodafone, Eir and Imagine broadband. The use of different operators meant that the fastest available solution was installed in each of the sites.
Cathaoirleach Aidan Campbell commented: "At a time when fundraising capacity is limited, this project has enabled communities throughout the county to gain access to high speed broadband and to safe, secure wifi in locations throughout the county. It will empower citizens of all ages to access broadband services, to participate in digital training, complete farm applications and to engage in remote working in locations which can support video calling and video conferencing."
This project was delivered by Broadband Officer, John McArdle, on behalf of Monaghan County Council.
Pictured are Aidan Campbell, Cathaoirleach Monaghan County Council; Gerry Buckley, CE of N.I.S., Wifi installation company; John McArdle, Broadband Officer, Monaghan County Council.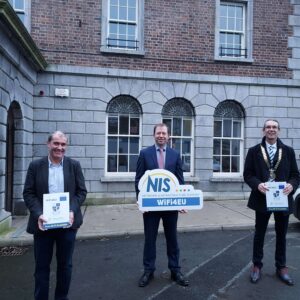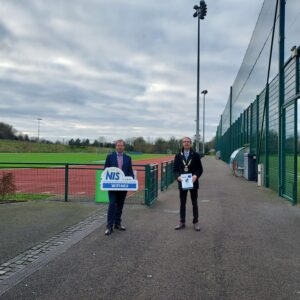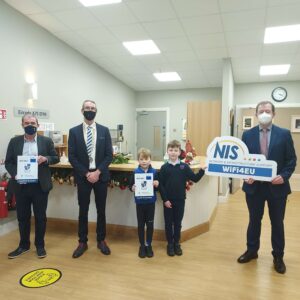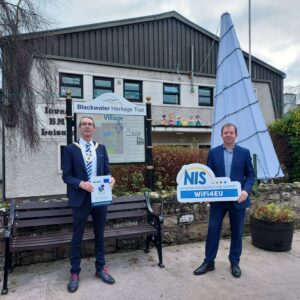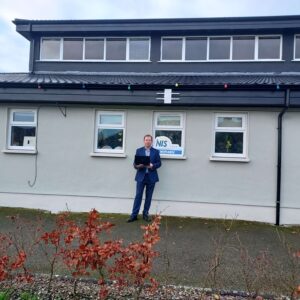 Wifi4EU Locations
Ardaghey Community Centre
Ballybay Church Hall
Ballybay Library
Ballybay Playpark Wifi
Carrickasedge Community Centre
Carrickmacross Workhouse
Carrickroe Community Centre
Cassandra Hand Centre
Castleblayney Gate Lodge Meeting rooms
Clones Canal Stores
Clontibret Community Centre
Cloughvalley Playpark Public Wifi
Doohamlet Community Centre
Drum Protestant Hall
Emyvale Community Centre
Glaslough  Oakland Centre
Glaslough Village
Greenan's Cross Centre
Inniskeen Community Centre
Íontas Theatre & Gallery, Castleblayney
Lisdoonan Hall
Lough Egish Community Centre
Market House, Monaghan
Newbliss Acorn Centre
Newbliss Union Hall
Oram Community Hall
Patrick Kavanagh Centre
Peacelink Clones
Scotshouse Community Centre
Scotstown Community Centre
Sean McDermotts GAA Complex
Sliabh Beagh Hotel, Knockatallon
Smithboro Community Centre
St Michael's Hall, Donaghmoyne
Tydavnet Community Centre
Tyholland Community Centre