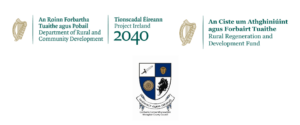 16th June 2023
MONAGHAN COUNTY COUNCIL SIGNS CONTRACT FOR NEWBLISS ENTERPRISE AND DIGITAL HUB
Monaghan County Council signed the contract for Newbliss Enterprise and Digital Hub project on Friday the 16th of June 2023. The 'Hub' will act as a key driver for the sustainable regeneration of Newbliss Village.
This €2.7 million Project is funded through the Department of Rural and Community Development's Rural Regeneration and Development Fund (RRDF), with match funding being provided by Monaghan County Council.
Following public procurement process, Monaghan County Council are pleased to award the contract to Lowry Construction Limited.
Architects Hall Black Douglas has completed the detailed design which will see the former Courthouse in Newbliss converted to a remote working, enterprise and digital hub. The 'Hub' which will be managed and operated by Enterprising Monaghan will consist of:
Rentable desks for students/remote workers
Meeting room
Canteen
offices of varying sizes
multifunctional space outbuilding
The signing of the Contracts took place in the Ballybay-Clones Municipal District chamber, with Minister Heather Humphreys, Cllr Sean Conlon Cathaoirleach of Monaghan County Council, Cathaoirleach Hugh McElvaney Ballybay – Clones Municipal District and the Elected Members.
The 'Hub' will increase footfall and address dereliction in Newbliss Village through the refurbishment of a vacant listed building, the project will act as a catalyst for economic recovery in the area.