Date of Drinking Water Restriction Notice:
24th October 2023
Due to elevated levels of manganese in a localised section of the Monaghan PWS network, the public
drinking water quality is considerably compromised and an immediate risk to your health.
As a result and following consultation with the Health Service Executive (HSE), Uisce Eireann are issuing
a Do Not Consume Notice with immediate effect to protect the health of consumers in this affected area
of the network. This Do Not Consume Notice will be hand delivered to all affected properties served by
the Monaghan PWS and as indicated in the red outlined area of the map attached.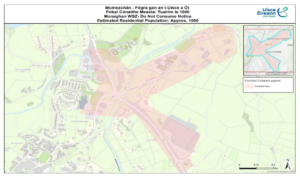 Learn more here: DNC Localised Area in Monaghan PWS 24-10-2023