The Garda messaging service known as 'Monaghan Community Alerts',  which was hosted by Komeer,  is now closed, due to Komeer's exiting the market.
An alternative service has instead been put in place, and was launched at the Joint Policing Committee meeting on 28th February 2023.
The new service sits within Monaghan County Council's existing Monaghan Alerts service, and is hosted on Monaghan County Council's website, at http://alerts.monaghancoco.ie.
The Monaghan Alerts service provides alerts to the public on Council issues such as road closures, floods, emergency information, boil water notices etc.  You can also receive weather alerts through the service.  And now, you can tick a box to say you'd like to receive garda alerts, too.
The service is completely free.  You can choose to receive your alerts by text, email or via app.
To subscribe to the service, click here:  http://alerts.monaghancoco.ie
To download the app, click here: https://alerts.monaghancoco.ie/app
If you prefer to join the service to receive messages by text, you can download the paper registration form here:  Monaghan Alerts Sign Up Form
Completed forms can be handed in to any Council public desk or library branch, or emailed or posted to the community section of Monaghan County Council at the address supplied on the form.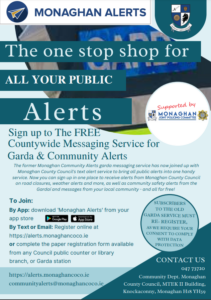 If you have any queries regarding the Garda messaging service,  contact communityalerts@monaghancoco.ie
More information:
Monaghan County Council Community Department
Carol Lambe 047 30500