Monaghan Local Community Development Committee recently received notification from the Department of Rural & Community Development that its application to run the 2023-27 LEADER Programme in the county has passed the first screening stage, and that it has now been awarded funding to prepare a detailed Local Development Strategy, which will outline the basis for how the LCDC plans to roll out the LEADER programme over the five-year programme period.
Two organisations have been progressed to this stage in Co. Monaghan, but ultimately only one will be selected to deliver the LEADER programme.
Monaghan LCDC has successfully overseen the current LEADER programme since 2016.  Monaghan LCDC is extremely well placed to deliver the LEADER Programme as it brings together all stakeholders in local development.
€6 million will be available to Co. Monaghan under the new LEADER Programme, which will target the three priority areas of:
Economic Development & Job Creation
Rural Infrastructure & Social Isolation and
Sustainable Development of Rural Environment & Climate Change Mitigation & Adaptation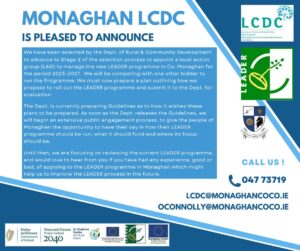 The LCDC is currently awaiting guidance documents from the Department which will set out the manner in which the Local Development Strategy shall be developed.   Widespread consultation will be undertaken throughout Co. Monaghan over the coming weeks to gather the views of those who may wish to make an application to the LEADER programme over the next few years.
Monaghan LCDC are also keen to engage with individuals and communities who have experience of applying to the current LEADER programme, to get feedback on the application process and to get suggestions for how it might be improved.
Further information on the consultation process will be widely publicised through the PPN, Social Media and the local newspaper.
If you wish to get involved in the consultation, you can do so by contacting Monaghan LCDC by emailing: LCDC@monaghancoco.ie or by phoning Olga Connolly on 047 73719 and asking for details of the consultation events to be sent to you when available.
More information – Olga Connolly 047 73719  oconnolly@monaghancoco.ie