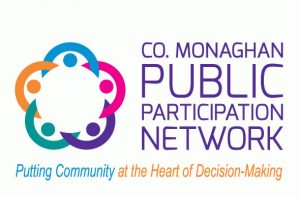 As part of the reform under the Local Government Reform Act 2014, local authorities were instructed to establish Public Participation Networks (PPN) in each local authority area.  Monaghan PPN was set up in November 2014, and has over 360 member groups. ALL community and voluntary organisations in the county are entitled to join. Membership is FREE.
The purpose of the PPN is to facilitate the public and community sector to participate in local decision-making. Membership is open to all community and voluntary groups and organisations active in County Monaghan.
The PPN is the main link through which the Council, and many other decision-making bodies, connect with the local community, and is a fantastic source of information.  It releases regular e-newsletters, holds workshops and public meetings, and organises consultations on issues which will have an impact on the community.  It also appoints community representatives to serve on decision-making bodies such as the LCDC,  MID,  LEADER, the Joint Policing Committee and the Council's four Strategic Policy Committees.
This enables the community to take an active and direct role in policy making through their community representatives.
Membership of the PPN is open to all community and voluntary groups in Co. Monaghan.  You can register on the PPN's website – link at the bottom of this page.
This is the first time in Irish history that the Community & Voluntary Sector has been given the right to sit at the decision-making table BY LAW. So let's be sure to use it –

See more information on
Website : www.ppnmonaghan.ie
Facebook: PPN Facebook