An EPA assessment report titled "Focus on Local Authority Environmental Enforcement – Performance Report 2022" which was published on November 14th indicates that Monaghan County Council is among the best performing Local Authorities nationally in the area of Environmental Enforcement. Each year the EPA, under the Local Authority Performance Framework, assesses the environmental performance of each Local authority against specific Environmental Enforcement priorities in the waste, water, and noise/air thematic areas.
Every  February, the Environmental Services unit in Monaghan County Councils prepares  an annual RMCEI inspection plan for submission to the EPA which details the proposed environmental enforcement and inspection work for the year ahead. In addition, RMECI returns detailing inspection and enforcement work carried out during the previous reporting year are also submitted to the EPA, and both the RMCEI plan and RMCEI returns form the basis of the annual EPA assessment. The EPA assessment indicated that Monaghan County Council achieved an 85% score whilst the national average was 59%. Only Kildare and Meath County Council scored higher than Monaghan County Council in the national assessment report.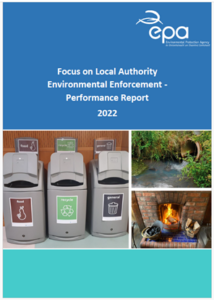 Chair Of the Climate Action and Environment Strategic Policy Committee Councillor Noel Keelan welcomed the positive assessment result for Monaghan County Council and acknowledged the work of all involved.  Cllr. Keelan said that achieving a clean, safe and sustainable environment is a key objective of Monaghan County Council and environmental enforcement and regulation have key roles to play if the Council is to achieve this  objective.
Kieran Duffy A/Senior Executive Engineer in the Environmental Services Unit also welcomed the positive Monaghan findings in the EPA report but stressed that there was still very significant work to do in the Environmental area, with many national environmental indicators trending in the wrong direction. He noted that overall, water quality is in decline nationally, whilst in the waste sector, there are challenging and onerous targets that need to be met.