On Tuesday, October 10th, 2023, the Hillgrove Hotel in County Monaghan was abuzz with the voices of young people from across the county, who gathered for the Monaghan Comhairle na nÓg Annual General Meeting (AGM). The event saw the participation of up to 120 enthusiastic and engaged young individuals, coming together to discuss and address the critical issues affecting the youth of County Monaghan.
The AGM provided a unique platform for the members of Comhairle na nÓg to showcase their year-long efforts and engage in meaningful consultations on the most pressing concerns facing young people today. One highlight of this year's AGM was the launch of their new booklet, 'Pick me up when you are feeling down,' a mental health booklet designed by and for the youth of County Monaghan.
Over the past year, Monaghan Comhairle na nÓg has passionately worked on the vital topic of Mental Health. This topic was democratically selected by the youth at their 2022 AGM, and the dedicated team set out to create a resource to support their peers. The chose to have their AGM on the 10th October as this coincided with World Mental Health Day and it was the perfect opportunity to launch their booklet.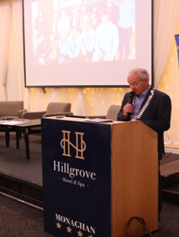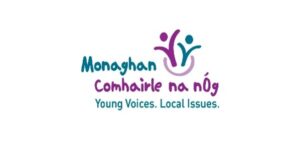 Comhairle members collaborated throughout the year with key agencies such as the HSE's Connecting for Life and Mental Health Services, Mental Health Ireland (Cavan & Monaghan) and the Monaghan Children & Young People's Services Committee to compile the booklet. It prioritises self-care and wellbeing, offering mental health advice conceived by young people, for young people. Its purpose is to be a reliable companion during difficult times, offering tips to bolster mental health. Furthermore, it includes a comprehensive list of relevant services that young individuals can turn to when grappling with anxiety, stress, or low mood. The booklet was funded by Healthy Monaghan. Eve Harrison, Monaghan Comhairle na nÓg Development Officer said that ' It was a wonderful experience seeing our booklet blossom from an idea into a tangible booklet we could touch and disperse to young people around the county'.
Following extensive consultations with attendees at this year's AGM, the young minds of Monaghan have decided that 'Lack of Infrastructure' will be the key issue to address in 2024, reflecting their commitment to making a positive impact on their community.
If you would like more information about Monaghan Comhairle na nÓg or wish to receive a copy of the 'Pick me up when you are feeling down' booklet, please don't hesitate to reach out to Eve at eve@ywicm.ie.
Monaghan Comhairle na nÓg continues to be a beacon of hope and empowerment for the youth of County Monaghan, demonstrating their dedication to raising awareness about critical issues and creating valuable resources to support one another.