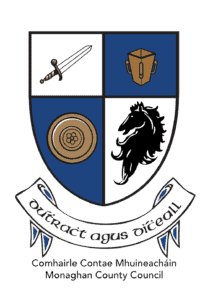 PART 8
Planning and Development Act 2000 (as amended)
Planning and Development Regulations 2001 (as amended)
Notice is hereby given pursuant to Article 81(1) of the Planning and Development Regulations 2001 (as amended) by Monaghan County Council to develop a greenway from Monaghan Town's Coolshannagh roundabout (N2 junction with N12) to Ardgonnell Bridge, located on the border with Northern Ireland near the N12.
The proposed greenway measures 7.3 kms in length and follows the route of the Ulster Canal as it proceeds alongside the N12 national primary road to Middletown, County Armagh. The proposed stretch of Greenway within Monaghan Town connects to the existing greenway near Coolshannagh roundabout and passes along the rear of Monaghan Institute on the N12 Armagh Road.
The proposed greenway passes through the following Townlands: An Tulaigh Thirim (Tullyhirm); Cnoc an Chonnaidh (Knockaconny); Droim Ruatach (Drumrutagh); Droim Achaidh Chruitin (Drumacruttan); An Chorr Bheag (Corbeg); Cruail (Crowey); Sceith na gCeann (Skinnagin); Táite an Teampaill (Templetate); Tulaigh Loiscthe (Tullylish); Táite Mhuileann an Ūcaire (Tuckmilltate); Coill Uí Néill (Killyneill); Coillidh Liaf (Killeef) and Tamlacht (Tamlat).
The proposed Greenway will consist of the following:
5m corridor incorporating a pathway up to 3m wide with a drainage/buffer verge up to 1m on each side. The pathway will consist of an unbound, granular surface course of gravel and dust, with asphalt in certain locations such as road crossing points.
Stock proof timber fencing (1.2m tall) at each side of the greenway where appropriate, as well as chicane railings at road crossing points.
Four pedestrian timber footbridges for connectivity across the canal and watercourses.
Underpass guardrails at the following bridges: Drumrutagh Bridge; Crowey Bridge; Glebe Bridge and Pipers Bridge.
Information boards at the termination point in Monaghan Town, together with way-marking and advanced warning signage for users along the route where appropriate.
All necessary associated site works such as route clearance, tree felling where unavoidable, drainage improvements, road junction improvements for pedestrians (dropped kerbs, tactile paving), site levelling/re-grading works and cut and fill earthworks.
In addition to the above, and in accordance with the provisions of Article 81(2)(c) of the Planning & Development Regulations 2001, the proposed development comprises enhancements to protected structures, as well as similar features of architectural/historical heritage along the route of canal. These include bridges, locks and tracts of canal basin. Enhancements mainly consist of clearance of overgrown vegetation and re-pointing of brickwork. The protected structures are: Crowey East Lock (41101059); Crowey Bridge (41101060); Glebe Bridge (41101061); Tuckmiltate Lock (41101063); Leitrim Bridge (41101062); Pipers Bridge (41101058) and Ardgonnell Bridge (41401008).
In accordance with Article 81(ca) and 120(1B)(b)(i) of the above-mentioned regulations, Monaghan County Council, as the competent authority, has concluded from a Screening Determination, based on an examination of the nature, size and location of the proposed development, that there is no real likelihood of significant effects on the environment arising from the proposed development and as such has determined that an Environmental Impact Assessment (EIA) is not required. The details of this Screening Determination are available for inspection by the general public.
At any time before the expiration of 4 weeks from the date of publication of this notice, any person may apply to An Bord Pleanála for a screening determination as to whether the proposed development would be likely to have significant effects on the environment.
Plans and particulars of the proposed development will be available for inspection (or purchase at a fee not exceeding the reasonable cost of making a copy) during normal office hours from Thursday, 1st April 2021 until Thursday 29th April 2021 (inclusive) at the following locations:
Monaghan County Council, County Offices, No1 Dublin Street, Monaghan, H18 X982, and their website: https://monaghan.ie/planning/online-planning-tools/
Submissions or observations with respect to the proposed development, dealing with the proper planning and sustainable development of the area in which the development would be situated, and clearly marked 'Part 8 – Cross Border Greenway from Monaghan Town to Middletown', may be made in writing by post or email to the undersigned at Monaghan County Council, No1 Dublin street, Monaghan, H18 X982, before 5.00pm on Thursday 13th May 2021.
This project has been supported by the EU's INTERREG VA Programme, managed by the Special EU Programmes Body.
Dated this Thursday 1st April 2021.
Anthony Morrow, Project Manager, Ulster Canal Greenway, Monaghan County Council.              Email: amorrow@monaghancoco.ie
————————————————————————————————————————————————————————
Temporary Closing of Roads – Emergency Closure
Monaghan County Council hereby gives notice of Emergency Closure in accordance with Section 75 of the Roads Act 1993 & Article 12 of the Roads Regulations 1994 that it will close the following road in the Municipal District of Ballybay-Clones in County Monaghan:
Date & Time:  Monday 12th April 2021 to Sunday 30th April 2021
To Facilitate:   Bridge Rehabilitation Works.
Roads Closed:
L-2200-0 in the townlands of Scarvy/Coolnalong Co. Monaghan
Division Route: –
Traffic wishing to proceed on the L-2200 in the direction of Scarvy from the R212 will be diverted by remaining on the R-212 to Clones town, then turning right on to the R-183, then turning right on to the L-6240.
Traffic wishing to proceed on to the R-212 from the Townland of Scarvy will be diverted by turning right on to the L-6240, then turning left on to the R-183 to Clones town, then turning left on to the R-212.
All Detours will be signposted to direct the Traffic. (Local Access only, no through road).
If you have any queries concerning this Road Closure, please contact the Roads Section, Mtek 2, Knockaconny, Monaghan at 047 30597 or email roads@monaghancoco.ie.
Gareth McMahon
A/Senior Engineer
Roads and Transportation
1st April 2021
————————————————————————————————————————————————————————
Monaghan PPN Climate Conversation – Planning For Local Change
Monaghan Public Participation Network (PPN) in collaboration with Monaghan County Council Environment Section were delighted to be one of the PPN's who recently held a Climate Conversation which is part of an initiative of the Dept. of Environment, Climate and Communications.
The conversations are happening across the country with the aim to give the community and voluntary sector an opportunity to engage in the development of the Climate Action Plan 2021 and the key local priorities for the Climate Action Fund. Monaghan PPN Climate Conversation was facilitated by PPN Environmental Representatives Candice Moen and Liam Murtagh of Transition Monaghan. A very diverse group of volunteers brought their local expertise and knowledge to highlight what needs to be done to make Climate Action happen in County Monaghan in areas such as food, shopping, transport, energy and buildings and biodiversity. They also shared their hopes and concerns for now and future generations.
Leona Keenan PPN Resource Manager stated "that the PPN is delighted to have been a part of this initiative because we are the "go to" vehicle when local and national governments want to consult with the community sector on a local or national policy or plan. It was evident during the workshop that there is a real appetite from our members to be taking on initiatives to deal with local climate action. The feedback from the workshop will be used to develop further PPN training and environmental themed events later in the year".