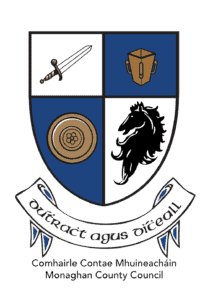 Temporary Closing of Roads – Emergency Closure
Monaghan County Council hereby gives notice of Emergency Closure in accordance with Section 75 of the Roads Act 1993 & Article 12 of the Roads Regulations 1994 that it will close the following road in the Municipal District of Ballybay-Clones in County Monaghan:
Date & Time:  Monday 12th April 2021 to Sunday 30th April 2021
To Facilitate:   Bridge Rehabilitation Works.
Roads Closed:
L-2201-0 in the townlands of Scarvy/Coolnalong Co. Monaghan
Division Route: –
Traffic wishing to proceed on the L-2200/L-2201 in the direction of Scarvy from the R212 will be diverted by remaining on the R-212 to Clones town, then turning right on to the R-183, then turning right on to the L-6240.
Traffic wishing to proceed on to the R-212 from the Townland of Scarvy will be diverted by turning right on to the L-6240, then turning left on to the R-183 to Clones town, then turning left on to the R-212.
All Detours will be signposted to direct the Traffic. (Local Access only, no through road).
If you have any queries concerning this Road Closure, please contact the Roads Section, Mtek 2, Knockaconny, Monaghan at 047 30597 or email roads@monaghancoco.ie.
Gareth McMahon
A/Senior Engineer
Roads and Transportation
8th April 2021
————————————————————————————————————————————————————————
Expressions of Interest Sought
Operation of Bike Rental
Scheme in Inniskeen Village,
Co. Monaghan
Monaghan County Council is seeking Expressions of Interest from individuals or companies for the operation of a Bike Rental Scheme based in Inniskeen Village, Co. Monaghan.
It is the Council's intention that the Bike Rental Scheme will enhance the tourism appeal of the locality. It is intended that a minimum of 15 bicycles shall be provided for under the scheme. The successful applicant must demonstrate strong financial vi-ability, including a solid business model indicating how the applicant will assist the Local Authority in enhancing the tourism appeal of Inniskeen Village and the Patrick Kavanagh Centre.
In your expression please include your name, contact details and a brief description of the proposed business model.
For the purposes of evaluation, persons expressing an interest before the below closing date, shall be invited to submit further detailed proposals at a later stage.
Expressions should be made in writing to the following address on or before the 22nd of April 2021 and be clearly marked "Inniskeen Village Bike Rental Scheme".
carrickmacross@monaghancoco.ie
or
Carrickmacross-Castleblayney Municipal District,
Riverside Road, Carrickmacross, Co. Monaghan.
————————————————————————————————————————————————————————