Free period poverty products available in Monaghan County Council and Community Buildings across County Monaghan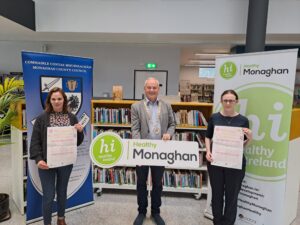 Photo Caption L-R: Healthy Monaghan Coordinator, Gráinne Boyle, Cathaoirleach Cllr David Maxwell, Laura Carey, Librarian, Clones Library
Monaghan County Council is proud to announce the relaunch of its extended Period Poverty Initiative, a program aimed at providing free menstrual products to those in need throughout the county. This initiative reflects the council's commitment to supporting the well-being of all its residents and ensuring that access to essential hygiene products is readily available to everyone.
Period poverty is a pressing issue that affects people from all walks of life. It occurs when individuals are unable to afford or access menstrual products, leading to significant challenges in maintaining good hygiene and overall health. Monaghan County Council recognises the importance of addressing this issue and is determined to make a difference in the lives of its community members.
The Period Poverty Initiative includes the following key components:
Distribution Points: Monaghan County Council has established multiple distribution points across the county where individuals can discreetly access free menstrual products. These distribution points will be strategically located in community buildings and County Council buildings.
Education and Awareness: The council is committed to raising awareness about period poverty and promoting menstrual hygiene education.
Community Partnerships: Monaghan County Council is collaborating with community groups to ensure the sustainability and success of this initiative. These partnerships will help expand the reach of the program and ensure a consistent supply of menstrual products.
Healthy County Coordinator Gráinne Boyle, who has been instrumental in driving this initiative, stated, "Period poverty is an issue that impacts the dignity and well-being of individuals within the community. Monaghan County Council is committed to eradicating this barrier to health and equality by providing free menstrual products to those in need. No one should have to choose between food and menstrual products, and with this relaunch, we are taking a significant step towards a more equitable Monaghan."
Cllr David Maxwell, Cathaoirleach, Monaghan County Council, said: "I welcome the availability of free period products in so many of our Local Authority owned buildings. These essential products should be freely available in every bathroom facility in County Monaghan, and I believe this initiative will highlight the need for this to become the norm"
This pilot project is supported by Monaghan County Council and the LCDC's Healthy Monaghan Sub-Group and is funded by the Department of Health. The free products are available now within all the buildings listed within the below table.
For more information about Monaghan County Council's Period Poverty Initiative, including how to get involved or access free menstrual products contact the Healthy County Coordinator at: healthymonaghan@monaghancoco.ie or 087-3361652.
Building Locations for Free Period Products
| | |
| --- | --- |
| Monaghan County Council Building Locations | Location Eircode |
| Monaghan County Council – The Glen Offices | H18YT50 |
| Monaghan County Council – Planning Offices | H18X982 |
| Carrickmacross Civic Offices (Including Carrickmacross Library) | A81RY22 |
| Clones Civic Offices | H23X378 |
| Clones Library | H28RW70 |
| Monaghan Branch Library | H18FT98 |
| Castleblaney Library | A75V383 |
| The Market House | H18R268 |
| Community Organisation Building Locations | Location Eircode |
| Teach na Daoine Family Resource Centre | H18D218 |
| Clones Family Resource Centre | H23AE75 |
| Blayney Blades | A75HK09 |
| Farney Community Development Group | A81E372 |