Architectural Competition seeks innovative design solutions for creating high-quality homes in town-centre locations
The Minister for Housing, Local Government and Heritage, Darragh O'Brien TD, and the President of The Royal Institute of the Architects of Ireland, Charlotte Sheridan, today launched the 'Town Centre Living' Architectural Design Competition for the design of four social housing schemes, with one in each of four town centre sites across the country.
The competition aims to encourage innovative design for social housing within town centres and progress the Government's Town Centre First policy's objectives of compact growth and town-centre revitalisation. The competition also seeks to encourage more architectural firms to compete for social housing design projects.
Following an open invitation to, and close liaison with local authorities, the Department of Housing, Local Government and Heritage (DHLGH) has selected four town-centre sites that will each have a separate social housing design competition. All four competitions will run concurrently. The winning architectural practice for each competition will, in addition to prize money, be awarded the design commission for the project. The winning proposals will be progressed by the various local authorities as live projects funded by DHLGH, through to construction and delivery.
The sites are at:
Kildare Town, Co. Kildare
Roscrea, Co. Tipperary
Sligo Town, Co. Sligo
Castleblayney, Co. Monaghan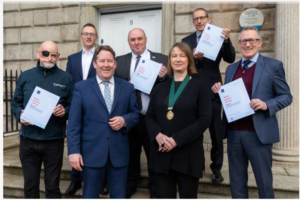 In February 2022, the Government launched Town Centre First, a major new policy that aims to tackle vacancy, combat dereliction and breathe new life into our town centres. The policy is underpinned by multi-billion euro investment spread across major Government schemes such as the Rural Regeneration and Development Fund, the Urban Regeneration and Development Fund, Croí Conaithe (Towns) Fund and the Town and Village Renewal Scheme. The policy contains 33 unique actions which will give our towns the tools and resources they need to become more viable and attractive places in which to live, work, visit and run a business. Housing for All, the Government's housing plan to 2030, committed to publishing the policy.
The winners of the competitions are expected to be announced during Quarter 2 2023.
The Juries for the Town Centre Living Competitions will be as follows:
Castleblayney
Valerie Mulvin FRIAI (Chair)
Paul Altman MRIAI, Senior Advisor DHLGH
Lorcan MacCinna Senior Engineer Monaghan County Council
Sligo
Derek Tynan FRIAI (Chair)
Joan MacMahon MRIAI Senior Advisor DHLGH
Seán Martin MRIAI Senior Architect Sligo County Council
Kildare
Miriam Delaney MRIAI (Chair)
Gareth Williams MRIAI Architect Advisor DHLGH
David Creighton MRIAI Senior Architect Kildare County Council
Roscrea
Orla Murphy MRIAI (Chair)
John Martin MRIAI Architect Advisor DHLGH
Liam Ryan MRIAI Senior Executive Architect Tipperary County Council
More information on the competition can be found here.