Monaghan County Council has announced its plans for Africa Day 2022, which will include a Family Open Day at Teach na Daoine Family Resource Centre on Saturday 28th May 2022 to celebrate the occasion.
It will be the second year that Africa Day is celebrated in Monaghan and this year will see the first event which the public are invited to attend in person. Teach na Daoine Family Resource Centre which is located in Mullaghmatt in Monaghan Town will host an open day on Saturday May 28th which is open to the public and which will be a family friendly event. This event will allow participants to gain a richer understanding of the diversity of African Culture. The family open day held in the Teach na Daoine FRC will include African food, musical and dance performances.
Africa Day, which falls on Wednesday, 25th May, celebrates the richness of African cultures and the contribution of people of African descent to Irish life. Africa Day celebrations are organised by Irish Aid at the Department of Foreign Affairs in partnership with African embassies in Ireland and local authorities around the country.
Commenting, Packie Kelly of Teach na Daoine said: "We are delighted and very proud to host Africa Day 2022 in Teach na Daoine Family Resource Centre. Our centre caters for the whole community and everyone is welcome to join us to take part in our Africa Day celebrations".
Cllr. Aidan Campbell, Cathaoirleach of Monaghan County Council, said that "I am delighted that Teach na Daoine have partnered with Monaghan County Council and Irish Aid to organise the second Africa Day celebrations in Monaghan. Africa Day celebrations occur across the globe and celebrate Africa's rich culture and heritage, and we are proud to celebrate Africa Day in Monaghan. This year will see the first event being open to the public and I would encourage people to come along to Teach na Daoine on 28th May where they will receive a very warm welcome".
This year will see Ireland's largest-ever Africa Day programme, with events being held nationwide. Africa Day 2022 will see the return of in-person events for the first time since 2019.
Minister for Overseas Development Aid and Diaspora, Colm Brophy TD, said: "Ireland has been enriched in so many ways by the presence of a vibrant African community. Ireland's arts, culture, business, community development, sport and so much more have been strengthened by people of African origin or descent. Africa Day is about recognising that contribution and celebrating the culture and potential of the continent as a whole.
"After two years of online events, this year will see the welcome return of in-person events nationwide. Irish Aid's partnership with local authorities will bring the fun of Africa Day to communities around the country. I am delighted that Africa Day 2022 is set to be our biggest-ever Africa Day celebration."
For more information visit www.AfricaDay.ie, Teach na Daoine's Twitter page and Monaghan County Council's social media pages.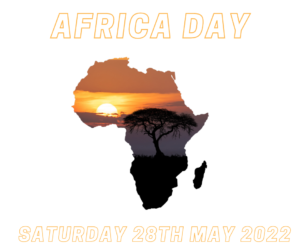 Contact: Barry Eaton, Social Inclusion Development Officer, Monaghan County Council. Tel: 086 3134557.
Notes to Editors:
Barry Eaton (Monaghan County Council) and Packie Kelly (Teach na Daoine FRC) are available for interview on request.
Africa Day is an international day that commemorates the foundation of the Organisation of African Unity in 1963. It falls on 25th May each year.
Irish Aid has hosted Africa Day celebrations since 2006. Activities in 2020 and 2021 were held online due to the COVID-19 pandemic.
Thirty local authorities will stage events and activities to mark Africa Day 2022. Funding for these events has been provided by the Department of Foreign Affairs. Events will take place nationwide from 21st – 28th These events will be listed on local authorities' social media channels and websites, as well as on www.AfricaDay.ie.