Retrofit Ready is the new energy saving programme for home owners and will showcase in Inniskeen and Emyvale in the coming weeks. The events will give communities an opportunity to seek information on how to make their homes more energy friendly.
This is achieved through house retrofitting, from simple insulation to a deep retrofit known as a "One Stop Shop".
Retrofitting increases you BER ratings, makes your home more comfortable, saves on energy bills and increases the value of your home. Grants are available for all retrofit works carried out by homeowners. These grants are administered by the Sustainable Energy Authority of Ireland, (SEAI).
The concept of community retrofitting helps communities and homeowners to work together with an ultimate saving for the end user. 
On Wednesday 11th October the Retrofit Ready information team will visit Inniskeen Community Center at 8.00pm and on Saturday 14th October the team will be in Emyvale Leisure Center between 1.30pm to 3.30pm.
These events will give general, and one to one, information to home owners on all aspects of retrofitting and the grants associated with these works.
Experts will be on hand to answer questions how to make energy improvements to your home. The events and all consultations are free. Both events are supported by Monaghan Integrated Development, (MID).
Come along and find out how Retrofit Ready can help you!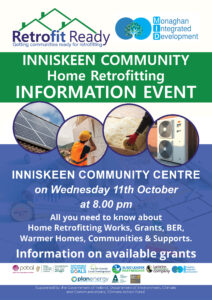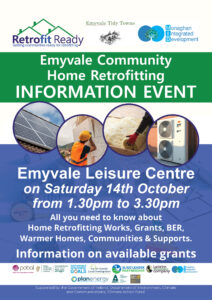 For more information contact: Owen McConnon, Community Retrofit Champion on 087 131 5964 or omcconnon@ccld.ie