Congratulations to Carmel O'Hare, Director of Corporate Services and Innovation, Monaghan County Council on winning Digital Leader of the Year award in the Public Sector Digital Transformation Awards on the 5th of October 2023.
"I would like to take this opportunity to congratulate Carmel on winning the Digital Leader of the Year award. Carmel is a dedicated public servant who is committed to delivering better public services through innovation, collaboration and digital transformation," said Cathaoirleach of Monaghan County Council, Cllr David Maxwell.
The Public Sector Digital Transformation Awards is a chance to shine the spotlight on cutting-edge technologies and innovative approaches to digital transformation that have made a real impact, improved service delivery, and enhanced citizen experiences. These awards recognise outstanding achievements in the public sector across multiple domains.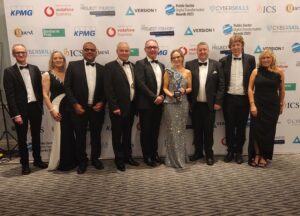 The Awards were open to all public sector organisations, individuals, and teams across Ireland to participate in. Monaghan County Council in partnership with several other Local Authorities and Ascendas Business Solutions (Ascendas) led the roll-out of a one-stop shop solution called 'MyCoCo'.
Robert Burns, Chief Executive of Monaghan County Council, commented, "we are very proud of Carmel's achievement and this award also recognises the commitment of the Council, and progress that is being made, to provide enhanced public services to the people of Monaghan through ongoing innovation and digital transformation."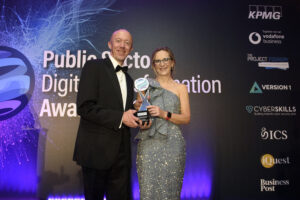 MyCoCo is a build to share digital solution that enables Local Authorities to provide online services to the public. 'MyCoCo' allows citizens and businesses to request a service, make a payment and track its progress without the need of using paper-based forms. 'MyCoCo' has been recognised by the Department of Public Expenditure, NDP and Reform as a building block of reform in Better Public Services – A transformation strategy to deliver for the public and build trust and is a key enabler for Local Authorities to deliver on the Connecting Government 2030 ambitions. 'MyCoCo' has been adopted by various local authorities across Ireland.