As part of National Spring Clean 2023, Tidy Towns Groups around County Monaghan are coming together and are holding litter picks. These litter picks will take place between the 25th of April and 12th of May. This is a great opportunity for people to join in and clean up their areas and our County.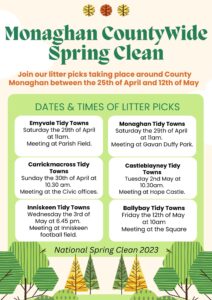 A list of dates and times for litter picks are outlined below and include picks organised by Carrickmacross, Monaghan, Emyvale, Ballybay, Inniskeen and Castleblayney Tidy Towns Groups.
Emyvale Tidy Towns
Saturday the 29th of April at 11am.
Meeting at Parish Field
Monaghan Tidy Towns
Saturday the 29th of April
at 11am.
Meeting at Gavan Duffy Park
Carrickmacross Tidy Towns
Sunday the 30th of April at 10.30 am.
Meeting at the Civic Offices
Castleblayney Tidy Towns
Tuesday 2nd May at 10.30am.
Meeting at Hope Castle.
Inniskeen Tidy Towns
Wednesday the 3rd of May at 6.45 pm.
Meeting at Inniskeen football field.
Ballybay Tidy Towns
Friday the 12th of May
at 10am
Meeting at the Square
Individuals and groups are encouraged to join in. Many Tidy Towns groups will be organising ongoing litter picks over the Summer time so make sure and check out their social media links below.
Ballybay Tidy Towns – https://www.facebook.com/groups/1649408565192656/
Castleblayney TidyTowns – https://www.facebook.com/profile.php?id=100064741924749
Carrickmacross Tidy Towns – https://www.facebook.com/carrickmacrosstidytowns/
Clones Tidy Towns – https://www.facebook.com/profile.php?id=100064304367210
Emyvale Tidy Towns – https://www.facebook.com/emyvaletidytowns
Glaslough Tidy Towns – https://www.facebook.com/glaslough/
Inniskeen Tidy Towns – https://www.facebook.com/InniskeenTidyTowns/
Monaghan Town Tidy Towns – https://www.facebook.com/people/Monaghan-Tidy-Towns/100064543665844/
Oram Tidy Towns – https://www.facebook.com/oramcommunitydevelopmentandtidyvillage/
Smithborough Tidy Towns – https://www.facebook.com/smithboroughtidytowns/