Monaghan County Council would like to bring to the attention of all dog owners, their responsibilities under the law:
All dog owners must keep their dogs under effectual control at all times
All dog owners must have a licence for each dog in their possession or a general dog licence to cover all dogs in their possession
All dog owners must ensure that every dog under their control shall at all times wear a collar bearing the name and address of the owner and that the name and address are legible
All dog owners owning purebred or crossbred dogs belonging to the breeds listed below must ensure that these dogs are securely muzzled and on a strong leash not more than 2 metres in length when in a public place:

American Pit Bull Terrier
Bandog
Bull Mastiff
Doberman Pinscher
English Bull Terrier
German Shepherd ( Alsatian)
 Japanese Akita
Japanese Tosa
Rhodesian Ridgeback
Rottweiler
Staffordshire Bull Terrier
Any person who finds and takes possession of a stray dog must:
(a) Return the dog to its owner
(b) Deliver the dog to a Dog Warden
(c) Detain the dog and give notice in writing containing a description of the dog, the address where it was found and the address of the place where it is detained to the member in charge at the nearest Garda Station to the place where the dog was found, or to the Dog Warden.
These provisions have been put in place because all dogs represent a potential
danger to pedestrians, motorists and livestock if they are not kept under control at all times. All dog owners have a responsibility to ensure that their dog is properly cared for and that they are not a nuisance or a danger to their neighbours or other members of the public.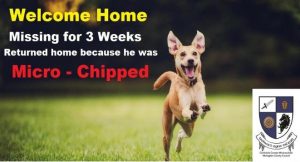 Free Microchipping and Registration
When You Buy a Lifetime Dog Licence Priced €140
Contact Monaghan County Council
Tel. 042 – 966 1240
Email dogs@monaghancoco.ie
More details about Lifetime Dog Licences